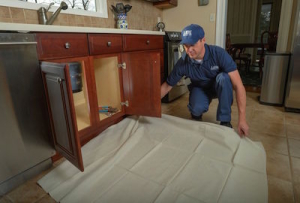 Our experts service many counties and cities in Baltimore, Washington D.C., Northern Virginia, Delaware and the Philadelphia Area, which include Baltimore County, Howard County, Montgomery County, Prince Georges County, Anne Arundel County, Harford County, Carroll County, Fairfax, New Castle County, Delaware County, Chester County, Stafford County, Fredericksburg County, Fairfax City, Alexandria, Arlington County, Loudon County, Prince William County, Falls Church, Manassas and Cecil County.
We offer Same Day Service, 7 Days a Week. From basic garbage disposal repairs to garbage disposal installation, no job is too big or too small. At Len The Plumber, we specialize in matching the right plumber to the right job and all of our service trucks are kept fully stocked so we can get your garbage disposal taken care of fast.
If you approve the work, we'll get it done the same day, and we always provide upfront written estimates.
If you live in the Baltimore, Washington D.C., Northern Virginia, Delaware or Philadelphia Area, contact us today to schedule your service!
Some of the communities served by Len The Plumber include:
Check out our service areas for a full list of the communities that Len The Plumber services.
Our goal is simple – to offer you trusted service from knowledgeable professionals and guarantee your satisfaction.
Len the Plumber Blog: Plumbing
Whether you're in the market to sell your home or if it's time to do some remodeling, you're always looking for ways to save money […]
Holiday weekends are always enjoyable–especially if you get that extra day off! Be sure to follow these Labor Day Plumbing tips before your guests arrive.
Summertime is meant for summer fun! With the temperature rising, how ready are you for the hot weather? Here are 6 easy tips to make beat the heat this year!
Changing out bathroom fixtures could save you money in the long run. Here are some reasons why making the switch to high-efficiency plumbing fixtures could be in your favor!