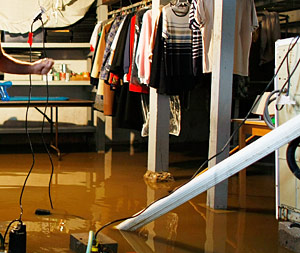 It doesn't take much water, even in an unfinished basement, to cause real damage to your home or harm to your health — to say nothing of the immediate danger of basement flooding like electrocution.
When you're dealing with a flooded basement in Philadelphia or the Delaware Valley, you can count on the specialists at Len The Plumber to provide the assistance you need. Whether it's a problem with your plumbing, drainage, or anything else, we can identify what's gone wrong and resolve the problem.
Need emergency basement flooding service in the Delaware Valley area? Reach out to Len The Plumber today at (800) 950-4619(800) 950-4619 or contact us online.
Steps To Take When Your Basement Floods
When dealing with a flooded basement, the biggest immediate concern should be electric shock. Don't touch ANYTHING or go into your basement until electricity is shut off — be alert to the possibility that some lines might be affected even if they aren't basement circuits!
Once you're sure the basement is safe to enter, you can remove valuables and look for the water source. A plumber should be your next call to resolve the issue — regardless of where the flooding stems from.
Call Len The Plumber as soon as possible for basement flood service. We'll help you get your home back to normal and solve the problem to avoid future flooding.  
Common Culprits and Solutions for Basement Flooding
Most basement flooding comes down to a plumbing issue at some level, which means you'll need a plumber. Services related to basement flooding include:
Sump Pump Installation & Repair
Your sump pump moves water from your basement to prevent flooding, reducing the water pressure against your basement so it won't force its way in through every tiny crevice and gap.
If your basement floods, we'll inspect your sump pump to see if it's at fault and repair or replace it if so. Don't have one, but need one? We can handle sump pump installation as well.
Water Line Replacement & Repair
Water line damage from tree root infiltration, age, or other accidents can cause floods as water makes its way through your yard and home.
Our team has the tools to determine the source of the problem and implement a water line repair.
Sewer Backup & Repair
A backed-up sewer line can lead to basement flooding by draining directly into your basement and increasing the pressure in your lawn, overwhelming your sump pump.
We offer drain cleaning and sewer line repair and replacement services to get your sewer line flowing efficiently and safely.
Main Line Clog Removal
A clog in your main line can cause issues in much the same way water line damage or sewer line damage might; if water backs up in your home or yard, there's a good chance it ends up in your basement.
Our team can fix main line clogs via augering or drain cleaning.
Whatever the cause of your basement flooding, trust Len The Plumber to help. Call (800) 950-4619(800) 950-4619 or contact us online for emergency services for your Delaware Valley-area home.
Choose Len The Plumber for Basement Flooding Services in Philadelphia and the Delaware Valley
Basement flooding almost always warrants the help of a professional plumber. Contact the team you can count on to provide expert same day service, seven days a week.
The Len The Plumber team will always communicate the issue and needed repair, so there are no surprises. We promise to leave your home as clean as we found it and provide respectful customer service from start to finish.
Call (800) 950-4619(800) 950-4619 or contact us online today!
Frequently Asked Questions About Basement Flooding
Will insurance cover the cost of basement flood services?
A standard homeowners insurance policy generally covers flooding caused by burst pipes, but you may need an additional endorsement to cover flooding caused by sump pump and sewer backups. Consult your insurance provider if you're unsure of your coverage.
Can flooding damage an unfinished basement?
Even an unfinished basement exposed to flooding can result in mold, weakened concrete, etc. Flooding and draining can even compromise your basement's structural integrity.
How soon can my basement be drained?
It depends on why it flooded in the first place and safety concerns. In some cases, aggressive draining of your basement while there is still water in the ground might cause pressure issues and put your home at risk.