Natural gas is a fantastic and efficient way to power most of the appliances in your home. Installing gas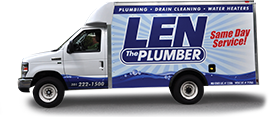 lines is one of our specialties at Len The Plumber. You've come to the right place, if you need us to install a gas line in your home for any appliance including: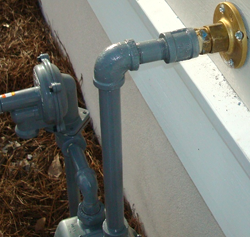 Furnaces
Gas stoves
Gas grills
Swimming pools/hot tubs
Water heaters
Fireplaces
If you approve the work, we'll get it done the same day! And we always provide upfront written estimates. If you live in Northern Virginia or Washington and need us to install gas lines, don't wait – call Len The Plumber today!
Our gas line technicians service Fairfax, Fairfax City, Alexandria, Arlington, Loudoun, Prince William, Falls Church, and Manassas counties.
24-Hour Emergency Gas Line Repair
Many people think the most important part of their plumbing system is the water flowing through the pipes. But as it turns out, that's only half the story! The natural gas that you use to power your appliances and heat your home is also a part of your plumbing system – one that needs to be carefully maintained!
A gas leak is one of the most dangerous things that can happen in your home. The gas company will add a "rotten egg" smell to the natural gas going into your home, so if you smell it, get out immediately and call 911. Once the gas has been shut off and the emergency has passed, call Len The Plumber for gas line repair!
We offer same day service, 7 days a week. Unlike sink faucet leaks, gas leaks are not things that can be ignored – you should have gas line repair right away when you need it. At Len The Plumber, we specialize in matching the right plumber to the right job and all of our service trucks are kept fully stocked.
Installing gas lines requires certified professionals. If you live in the Northern Virginia corridor and need us to install gas lines or repair them, call one of our friendly customer service reps today. We'll help you get the problem fixed fast!