Keeping the drains clean in your Northern Virginia home means having a reliable plumbing professional by your side. Len The Plumber proudly offers the comprehensive drain cleaning solutions that families need to keep their systems sparkling clean for the long term. Using the most advanced drain cleaning tools and techniques, our team is uniquely capable of eliminating even the toughest debris from your plumbing system in no time.
When you're seeking professional drain cleaning in Alexandria or the surrounding areas, there's only one team for the job: Schedule drain cleaning services with Len The Plumber by calling (800) 950-4619 today!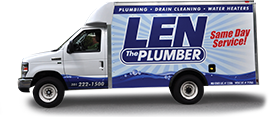 Signs Your Home Needs Drain Cleaning
The biggest indicator that your Northern Virginia home needs drain cleaning services is a blockage. However, other signs can also indicate the need for professional drain cleaning, including:
Foul smells coming from your drains
Drain flies and other pests
Odd noises coming from your plumbing fixtures
One plumbing fixture acting up while another is in use
Multiple, simultaneous plumbing fixture clogs
Do any of these signs sound a little too familiar? Len The Plumber is here to help resolve your plumbing problems through our powerful drain cleaning solutions.
Call our team at (800) 950-4619 to schedule drain cleaning in Northern Virginia today!
Our Drain Cleaning Services In The Alexandria, VA Area
When it comes to clogged, dirty drains, our team has seen and solved it all. Our plumbing professionals receive continuous training in the most advanced tools and techniques to deliver long-lasting drain cleaning solutions our customers can trust. Depending on the severity of your drain cleaning needs, we may recommend one of the following expert solutions:
Drain vent cleaning
Rain leader drain service
No matter what your drain cleaning needs may be, Len The Plumber has the team and tools available to address them in no time. Call us at (800) 950-4619 to schedule drain cleaning in Northern Virginia today!
Why Choose Len The Plumber for Drain Cleaning Services in Northern Virginia?
Northern Virginia families know that when they choose Len The Plumber for drain cleaning services, they aren't just choosing the most highly trained professionals in the region. They're also guaranteed an unparalleled service experience through the following unique benefits:
Personalized drain cleaning solutions based on your specific situation
Upfront, honest service estimates
Available financing solutions on approved credit
Same day emergency drain cleaning services with no after-hours service fees
Highly trained technicians committed to quality craftsmanship and first-class service
When you're seeking drain cleaning solutions in Northern Virginia, choose the team that 60,000 of your neighbors trust every year. Call Len The Plumber at (800) 950-4619 to schedule drain cleaning services today!
Schedule Drain Cleaning Today!
If your drains need professional cleaning, Len The Plumber has the team you need to get the job done right. From video camera drain inspections and clog removals to sewer line replacements and sewage backup repairs, there's no drain cleaning service request too challenging for our team.
Schedule drain cleaning in Northern Virginia by calling Len the Plumber at (800) 950-4619 today!
Drain Cleaning FAQs
Do baking soda and vinegar clean drains?
Some homeowners mix equal parts baking soda, vinegar, and water, pouring the mixture down their drains as a DIY cleaning method. While this might provide temporary relief, it's not recommended as a permanent fix for filthy drains. Consult with a plumbing technician to identify the best drain cleaning solution for your home.
What should I not put down my drains?
One of the best ways to keep your drains clean is to prevent certain materials from entering them in the first place. Avoid sending the following items down your drains whenever possible:
Hair
Grease
Oils
Food particles
Paper products
Chemical cleaners
How often should drains be professionally cleaned?
It's recommended that homeowners have their drains professionally cleaned once every few years with more frequent cleanings for older drains, basement drains, and systems close to large roots.