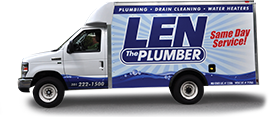 Is your sewer line in good working order? If something goes wrong with your sewer main, you'll quickly notice the effects on every part of your plumbing. Blockages and damage from buildup, infiltration of roots or debris, or erosion can leave you with multiple clogged drains, a lawn full of foul water, water damage, pests, and more issues.
That's why when you suspect a sewer line problem, you should call the experts at Len The Plumber to deliver superior technical expertise and customer care and determine whether you need sewer line repair or replacement
Ready to schedule a service or learn more about our sewer line services? Contact us today by calling (800) 950-4619(800) 950-4619 or contacting us online. We'll happily provide a free estimate!
Common Sewer Line Issues
Wondering why your sewer line might have trouble, or wondering if you have a problem warranting a call? Here are some of the most common sewer line problems we receive calls for:
Physical damage to sewer lines
Pipe corrosion
Soil shifting or eroding pipes
Main line clogs
Damage due to freezing temperatures
Wear and tear due to age
If any of these seems likely or sounds familiar, Len The Plumber is ready to help! Call (800) 950-4619(800) 950-4619 or contact us online for emergency service!
24-Hour Sewer Line Repair & Replacement Services in Northern Virginia
At Len The Plumber, we provide a full range of services intended to assess problems with your sewer line and resolve them thoroughly, whatever that might entail. Our sewer line services include:
Video Camera Sewer Line Inspections
There's no better way to understand what's going on with your sewer line than to get eyes on the situation from the inside.
Our sewer camera inspections show us a direct video feed of the interior of your sewer line. We can easily see whether you have a heavy clog of hair and oil, buildup on the interior of old pipes, cracks and infiltration from tree roots or mud, or another issue.
Trenchless Sewer Line Services
We can usually opt for trenchless sewer replacement unless your sewer pipe is sagging or has completely collapsed.
Trenchless sewer replacement allows us to feed your new sewer pipe directly into the existing pipe with a special head attached to burst the old pipe as it pushes forward — no need for a trench!
And if you have a clogged or cracked sewer line indicated by puddles in your yard or backups in multiple drains, we can provide trenchless sewer repair!
Sewer Line Clog Removal
A serious clog in your sewer line means a serious clog that affects your entire home. We'll quickly identify the source and remove the clog completely — the right way, without damaging your pipes or leaving a problem waiting to return.
If you need sewer line repair or replacement services, contact Len The Plumber today by dialing (800) 950-4619(800) 950-4619 or contacting us online!
Choose Len The Plumber for Sewer Line Services in Northern Virginia
When you choose Len The Plumber for sewer line repair or replacement in Northern Virginia, you'll benefit from excellent professionals delivering complete solutions to your plumbing issues. We'll carefully assess the situation and let you know your options for a solution, then implement the solution perfectly using high-quality tools and materials.
We also offer excellent financing options, emphasize customer service as much as technical expertise, and maintain full transparency in pricing and estimates with no hidden fees!
Ready to get your sewer line flowing freely again? Contact Len The Plumber online today to schedule service or request an estimate!