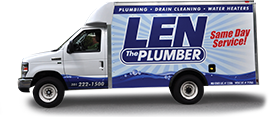 A traditional water heater keeps 60 to 100 gallons of water hot 24 hours a day. You would be shocked to learn how much standby heat loss occurs with this water heating method. In fact, it's where a majority of your water heating bills come from. With a tankless water heater, hot water is generated on demand, slashing your operating costs and allowing for endless back-to-back showers without ever running out of hot water.
If this sounds like the water-heating method you want in your home, contact Len The Plumber to learn more. We install, repair, maintain, and replace tankless water heaters in Northern Virginia.
Tankless Water Heater Installation & Replacement
Could a tankless water heater be right for you? The answer is probably yes if you want any of the following:
Reduced energy costs
Endless hot water supply
Double the life span of conventional storage water heaters
Small size to save valuable space
Lower risk of water damage if the unit ever malfunctions
At Len The Plumber, we'll start your tankless water heater replacement on the right foot with a written estimate and flexible financing to make your investment affordable. We provide accurate sizing, professional installation, and haul-away services if you need us to remove your old unit for you.
To learn more about tankless water heaters or to get the installation process started, call us today.
24-Hour Tankless Water Heater Repair
Does your tankless water heater need repair? A sudden burst of cold water in the middle of your shower, strange noises coming from the unit, or a low flow rate could all be signs of trouble. Don't ignore these problems as they could lead to performance issues, high energy bills, or safety concerns.
Len The Plumber is your source for reliable 24/7 tankless water heater repair in Northern Virginia. After 24 years in the business, we've seen it all! Our knowledgeable plumbers and fully stocked trucks have what it takes to get the job done right the first time around.
Feel free to call us at any time for emergency repair services. Our team is on call to handle your request day or night, weekend or holiday. Rest assured that we never charge extra for after-hours visits, so there's no reason to go without hot water a moment longer!
Call (800) 950-4619(800) 950-4619 for emergency tankless water heater repair in Northern Virginia.
Tankless Water Heater Maintenance
As with other mechanical systems in your home, it's important to maintain your tankless water heater once a year. Making preventative service a priority promotes lower water heating bills, fewer breakdowns, and a longer equipment life span.
Choose Len The Plumber for the services you need. We'll arrive promptly for your scheduled appointment, carefully inspect your tankless water heater, and perform all the steps necessary to help it perform reliably and efficiently for many years to come. We maintain all brands and types of systems, whether we originally installed them or not.
Let us help you get the most out of your tankless water heater — schedule maintenance with Len The Plumber today.
Tankless Water Heater Services in Northern Virginia
No matter your water heater needs, we have you covered! Our fully trained, licensed, certified, and bonded professionals are background-checked and drug-tested for your peace of mind. "Plumber" is in our name, and it's all we do. We strive to surpass our customers' expectations every time by installing high-quality products and offering unbeatable service.
Give us a call today at (800) 950-4619(800) 950-4619 to request tankless water heater services in Northern Virginia.