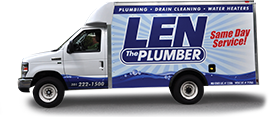 Has your water heater broken down? Perhaps you're ready to upgrade to a new, high-efficiency system. No matter what your needs are, Len The Plumber can help! We offer water heater installation, repair, maintenance, and replacement to customers in Northern Virginia. Our background-checked and drug-tested plumbers are fully trained, licensed, certified, and bonded for your peace of mind. We can ensure your water heater will run affordably and dependably for years to come.
Contact Len The Plumber at (800) 950-4619(800) 950-4619 today to discuss your water heating needs.
Types of Water Heaters
What style of water heater do you need to have serviced or installed? Our knowledgeable plumbing team has experience working with all kinds of water heaters, including:
Gas water heaters: Natural gas is a clean, energy-efficient, and cost-effective fuel source for water heaters, making it one of the most popular options today. Len The Plumber can install or service your gas water heater to help it perform as reliably as possible.
Storage water heaters: Most water heaters sold today store hot water in an insulated tank until you need it. Choose from gas or electricity to meet your needs.
Tankless water heaters: Also known as on-demand water heaters, this option eliminates the standby heat loss associated with storage tanks, delivering energy-efficient water heating and an endless supply of hot water.
Heat pump water heaters: The exceptional energy efficiency of a heat-pump-powered water heater makes this an ideal choice for homes where natural gas isn't available. Contact us to learn how this system collects warmth from the air to heat your water supply.
Solar water heaters: Solar panels can do more than just power your home — they can also heat your water! This stand-alone system is available with a backup energy source to ensure you always have hot water, even at night and on cloudy days.
For help deciding which type of water heater is right for your Northern Virginia home, please give us a call today.
Our Water Heater Services in Northern Virginia
When your water heater acts up, you won't make it long before you need a plumber to fix it. Don't wait until the appliance fails catastrophically — call Len The Plumber for convenient, affordable services that work with your schedule. Here's what we offer:
Water heater installation and replacement: From installing a water heater in your new home to upgrading your old unit, we promise to make the water heater installation or replacement process fast and easy.
24/7 Water heater repair: While your water heater was built to last, it may still experience problems from time to time. Len The Plumber can fix issues with water leaks, no hot water, corrosion, low water pressure, and more. Our water heater repair team promises to get the job done right the first time around.
Water heater maintenance: Did you know that water heaters need annual tune-ups? It's easy to neglect this quiet, out-of-the-way appliance, but with the proper care, you can lower your operating costs, avoid breakdowns, and extend the life of your investment.
Call us the next time your water heater needs attention, and we'll get the job done the same day!
Frequently Asked Questions About Water Heaters
When it comes to expertly repairing, replacing, or installing water heaters for homeowners throughout Northern Virginia, our team of plumbing professionals has seen it all! Whether you have an older home in Alexandria or new construction in Falls Church, we've compiled some of the most common questions we receive to keep you informed on one of your home's most important comfort systems!
What is the difference between tankless and storage tank water heaters?
If you live in an older home, chances are you have a traditional, tank-style water heater. This kind of water heater stores up to 40 gallons of water (depending on the capacity of your tank) and keeps that water heated and readily available for bathing, washing dishes, doing laundry, etc., throughout your home. Your tank-style water heater will continually refill and reheat water in the tank as needed, which can lead to decreased energy efficiency and the common problem of running out of hot water (and having to wait on the tank to refill).
Alternatively, tankless water heaters provide hot water on demand, heating water instantly through an electric or gas component. Tankless water heaters are considered much more energy-efficient since they don't need to continuously heat and store water while it isn't being used. They have higher costs initially, but they last longer and will save you significant money on your energy bill.
Do water heaters need regular maintenance?
Yes! Just like all of your home's comfort systems, your water heater needs regular maintenance to ensure it's running efficiently and effectively for your home. One common aspect of maintenance is draining your tank once or twice a year to remove sediment buildup that can contribute to a number of problems down the road. Our team of
Northern Virginia water heater experts
can provide comprehensive maintenance for your home's water heater to guarantee great performance while also alerting you to any small issues before they escalate into the need for more expensive repairs.
Why does it take so long for my water to get hot?
While you may simply need water heater repairs for your Northern Virginia home, there are a number of underlying issues that could delay the time it takes for your water to heat up. If you have a tank-style water heater that hasn't been drained at least once in recent years, it's likely that you have sediment buildup in your tank, which limits the overall water capacity and can affect the heating ability. Draining your water heater at least once a year is an important maintenance practice to subscribe to, and our knowledgeable plumbers can help! Len The Plumber will quickly diagnose your hot water problem and provide the necessary services to get your system working again fast!
What is the average service life of a water heater?
Traditional, tank-style water heaters typically last about 10 to 15 years, and tankless water heaters have a service life of approximately 20 years. No matter the system you have in your Northern Virginia home, proper maintenance is the most important factor in prolonging the life of your water heater.
What could cause my water heater to leak?
If you're dealing with a leaky water heater in your Northern Virginia-area home, chances are you've tried to diagnose the problem on your own with no success. A leaky water heater can have a variety of underlying causes, including:
A crack in your storage tank
Excess pressure buildup
Improper draining
Fixtures that are loose
The age of your water heater
Whatever the cause may be, our seasoned pros can identify it quickly and provide effective solutions that will remedy your water heater's leak right away!
Schedule Water Heater Services in Northern Virginia
Len The Plumber is a premier plumbing contractor in Northern Virginia. We proudly offer emergency services with no overtime charge, flexible financing to suit any budget, and your satisfaction guaranteed!
To request water heater installation, repair, maintenance, or replacement, please call us at (800) 950-4619(800) 950-4619 or contact us online today.