24/7 Expert Plumbers Serving Bergen, Passaic, Mercer, Middlesex, Monmouth, Burlington, Camden & Gloucester Counties
Your home's plumbing is complex. Since most of it is hidden from view, diagnosing a plumbing issue can feel like an impossible mystery. Sometimes it can be hard to know if you even have a problem, but other times, a clogged drain or a broken pipe is an obvious problem that may come at an inconvenient time.
Any issue with your plumbing can feel overwhelming, so call in expert help at the first sign of plumbing trouble. Len The Plumber is a leading plumbing contractor that offers reliable same day service, seven days a week.
"Plumber" is in our name, and plumbing is all we do. Call (800) 950-4619(800) 950-4619 now for reliable service from our experts!
What Can You Expect When You Hire Len The Plumber?
Our top priority is the safety and comfort of your family, followed closely by your complete satisfaction. We understand that you have a busy life and a plumbing problem is a big disruption, so we strive to provide prompt, reliable service around your schedule. When you hire Len The Plumber, you can expect:
Friendly, respectful customer service from professionals who care
Same day service at a time that's convenient for you – at no extra charge on nights and weekends!
A profile of your plumber sent before they arrive, so you know who to expect
A full explanation of the work suggested, with an upfront written estimate
Fully stocked service vehicles so our plumbers can resolve your issues in one trip
An optional complimentary whole-home plumbing inspection with any service
A follow-up after your plumber leaves to ensure that you're 100% satisfied
Our team is committed to providing the highest quality service on every visit – whether it's a major plumbing repair or routine maintenance.
Our Service Area in New Jersey
Whether you live in Stratford, Pemberton, Princeton, East Brunswick, or anywhere in between, we're equipped to bring you reliable, affordable plumbing solutions—day or night. Len The Plumber is a leading plumbing contractor serving:
Not sure if you're in our service area? Give us a call at (800) 950-4619(800) 950-4619 or reach out online to see if we can bring reliable plumbing services to your New Jersey home.
Comprehensive Plumbing Services in Central New Jersey
Our friendly experts can handle everything from cracked toilets to collapsed sewer lines! Call Len The Plumber when you need help with:
Cracked or leaking pipe repair and replacement
Laundry tub repair and replacement
Not sure what your plumbing issue is or if you need a plumber at all? Our friendly team will ask the right questions to determine the right solution.
Emergency Plumbing Services in Camden, Burlington, Gloucester, Middlesex, Mercer, Monmouth, Bergen & Passaic Counties
When you have a plumbing emergency, charging you more for emergency service is like kicking you when you're down! We know you have enough to worry about, so we don't charge extra fees.
We offer same day services seven days a week, even on evenings and weekends, so we can be there when you need us most. Don't hesitate to call if you have an issue such as:
Cracked or leaky pipe repair
Our team of local experts is standing by to help with any plumbing emergency in Camden, Gloucester, Burlington, Mercer, Middlesex, Monmouth, Bergen, or Passaic County! Call us anytime at (800) 950-4619(800) 950-4619!
Schedule Service With Our Professional Plumbers Today
At Len The Plumber, everything we do is a reflection of our ultimate goal: your comfort and satisfaction. That means that we work around your schedule to bring you the highest quality plumbing solutions, and we do it in a way that is easy and stress-free for you. We proudly serve homes across Burlington, Gloucester, Camden, Middlesex, Mercer, Monmouth, Bergen & Passaic Counties.
When you choose Len The Plumber, you don't have to worry about extra fees for emergency service, waiting around during a vague service window, or rude technicians who make a mess in your home. Our friendly plumbers come exactly when we say they will and treat you and your home with respect, fully explaining their findings and all suggested work.
With upfront estimates that don't change later, high-quality parts and labor, and a follow-up check after your plumber leaves, you know that your satisfaction is guaranteed with Len The Plumber!
For reliable plumbing services from professional, friendly plumbing experts, call us at (800) 950-4619(800) 950-4619 or contact us online today. Our friendly staff is standing by to help you when you need us most!
What to Expect
From Len The Plumber
Plumbing
Experts
"Plumber" is in our name, and it's all we do. We can handle any plumbing problem, guaranteed.
Zero
Surprises
You'll get a profile of your plumber before they arrive so you know who's coming, and they'll show up on time (every time).
A Local
Team
We dispatch plumbers from their homes so they can get to you quickly. Your plumber might live right around the corner!
Fully Stocked
Trucks
We provide our plumbers with everything they need to solve your problem on the first trip.
Respectful
Service
Our plumbers are friendly, considerate professionals who will treat your home and family with kindness.
Read More
We Deliver Prompt, SAME DAY SERVICE To Your Home
Our multiple service locations make it easy to deliver prompt, same day service. No matter where you live, we're already in your neighborhood. Our trucks are always fully stocked to fix whatever plumbing or drain cleaning problem we encounter. Our certified plumbers will be able to help you no matter how big or small the problem is.
RECENT CUSTOMER REVIEWS
"Matthew was both prompt (early actually), and the work could not have been done quicker and as efficiently. Excellent service, and left me with a few estimates for possible bathroom adjustments in the near future. Thanks!!!"
-Joshua Friedman
RECENT CUSTOMER REVIEWS
"The technician was professional and extremely knowledgeable. I would totally recommend this company."
-Jamal Jones
RECENT CUSTOMER REVIEWS
"Our bathtub leaked through to kitchen ceiling downstairs. Matthew was very professional and personable from start to finish. He showed me exactly what the problem was and explained clearly what needed to be be done. He completed the work in within the time he estimated. He replaced all the damaged plumbing and left it looking great."
-T Wash
RECENT CUSTOMER REVIEWS
"Matthew was amazing! Professional, friendly, helpful and honest. Did not try ro sell us anything we didn't need. Gave us an estimate for something we may need soon. Even lent a hand with our self-install of a chandelier. Will use this company again!"
-Dawn Slate
RECENT CUSTOMER REVIEWS
"You couldn't ask for a better technician. He was very upfront with the pricing and the repairs that were needed. He was efficient with the repairs and the time it took. I would highly recommend Christopher Choy for any plumbing repairs if you want a professional that's honest and credible."
-Rick
RECENT CUSTOMER REVIEWS
"Matt was professional, on time, communicated and got the job done."
-Debra Herman
RECENT CUSTOMER REVIEWS
"These guys arrived on time and their service was as. professional and. determined to leave sewage running back up again due to a back up. They took the time to do their job. Thank you so much and I will use their service again."
-Erick Alvarado
RECENT CUSTOMER REVIEWS
"Matt was our plumber. He was very efficient and professional!! I'm happy with the new faucet and even more happy the leak under the sink no longer needs a bucket!! I would recommend Matt and Lens pluming service. I will call them again if needed!"
-Shawnee
RECENT CUSTOMER REVIEWS
"Matt was amazing!! Quick, efficient, friendly and clean!! Highly recommend!"
-Cristie Link
RECENT CUSTOMER REVIEWS
"Matt and Eric came in and replace the ring under the toilet was very professional I would call Len the plumber again"
-Frances Giovanetti
Schedule Service
Frequently Asked Questions
We Can Handle Any Plumbing Service—Guaranteed!
Plumbing
Drain & Sewer
Water Heaters
Reliable Plumbing Repair & Installation
From minor maintenance to massive repairs, our team can do it all. We focus on providing comprehensive, long-lasting solutions rather than quick fixes, and we always explain our work before we start so you understand what's happening and why. We can provide repair services for:
Leaky faucets
Toilets that are leaky, constantly running, or clogged
Cracked or leaky pipes
Outside hose bibbs
Low water pressure issues
And more
Need a new plumbing fixture or pipe installed? No matter what type of plumbing job you have in mind, we're happy to handle it. We can install:
New faucets for sinks, showers, and tubs
Toilets
Garbage disposals
New pipes
Water lines for refrigerator ice makers
And more
No matter what plumbing repair or installation help you need, Len The Plumber is ready for the job. Give us a call at (800) 950-4619(800) 950-4619 for same day service.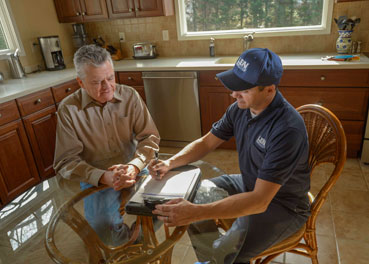 Drain Cleaning & Sewer Line Repair
There are few things more frustrating than a clogged or slow drain—or, even worse, an overflowing sink or tub because the drainage is backing up. At Len The Plumber, we can solve any of your slow or clogged drain problems. If you notice many of your drains are having problems, the problem could lie with your main sewer line. But don't worry—we can handle that, too!
Our sewer and drain services include:
Video pipe inspections to diagnose problems
Drain cleaning for kitchen sinks, shower drains, and more
Clogged toilet repair
Waste water and sewage backups
Sewer line repair and replacement for broken, cracked, corroded, or collapsed sewer lines
Tree root infiltration
Sewer line problems can be overwhelming, but you can rest easy knowing you're in good hands with Len The Plumber. We don't charge extra for emergency services and we can be at your home the same day, so you'll never have to deal with an overflow or clog alone.
Call (800) 950-4619(800) 950-4619 now for same day sewer and drain services!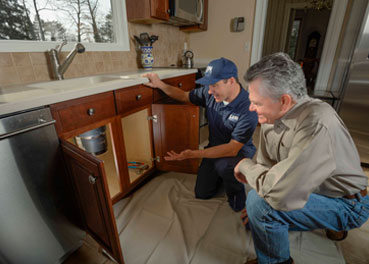 Water Heater Services
Is your water heater failing to reach the temperature you need to clean dishes, wash your laundry, or take a hot shower? Is your tank leaking, or have you recently realized it's time for a replacement? We offer complete water heater repair, installation, and maintenance services for local homeowners. We can repair or install:
Gas hot water heaters
Electric hot water heaters
From sediment buildup to cracked tanks, we've dealt with just about every water heater issue under the sun. Call the experts today at (800) 950-4619(800) 950-4619.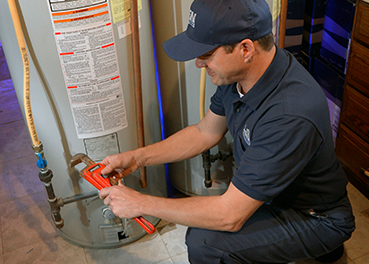 Len The Plumber BY THE NUMBERS
22
Years Serving the Mid-Atlantic
60,000
Families Served Each Year
5 / Day
Sewer & Excavation Jobs
Plumbing Is All We Do!