Improve Water Pressure in Your Home
Tired of low water pressure? Call Len The Plumber! We offer water booster pump installation in your home, whether you're on well water or hooked into the city water supply. Booster pumps aren't just for multistory buildings or power washing hoses – if you feel like your sink or shower flow is weak, you can use them in your home too.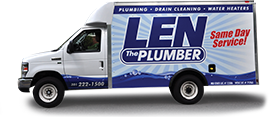 Installing a booster pump can improve the water pressure of nearly all your plumbing fixtures. If your water pressure is lower than you'd like, if your toilets take too long to fill, or if you can't use more than one water outlet at a time, call Len The Plumber!
Len The Plumber delivers professional booster pump services that will solve your water pressure problems! Give us a call at (800) 950-4619(800) 950-4619 or contact us online to schedule your water booster pump services today!
Trusted Water Pressure Booster Pump Services in the Northern Virginia Area
Whether you're on city or well water, low water pressure in your home can be a pain. Installing a pressure booster pump will improve water flow to all of your plumbing fixtures and appliances, including:
Sinks and showers
Toilets
Dishwashers and washing machines
Lawn sprinklers
And more!
Need to improve your water pressure? Don't wait, call Len The Plumber now for Same Day Service, 7 Days a Week! Give us a call us at (800) 950-4619(800) 950-4619 or contact us online to schedule booster pump repair or installation today!
Booster Pump Installation in Northern Virginia
If your old well pump is no longer able to provide enough water pressure for your household, Len The Plumber can professionally install a water pressure booster pump for you!
A pressure booster pump works similarly to a fan, increasing low water pressure or flow and providing the extra boost you need to get your water pressure back up to an optimal level. Just like a fan has blades that circulate around to increase air movement, a booster pump has an impeller inside that increases water flow and pressure. A single water booster pump can increase water pressure throughout your entire home.
Does Your Northern Virginia Area Home Need a Well Booster Pump?
If your home's water pressure problems do not stem from a leak, or if you need more water pressure for a particular use, then a booster pump is likely your best option. Here are some things to consider when deciding to get a booster pump installed in your home:
What is my water flow rate? The professional team at Len The Plumber can calculate how many gallons of water you get per minute, keeping all fixtures in mind, and then determine if your flow rate could be improved.
How much water do you really need? Consider the amount of water needed for your household's everyday use. If you don't think enough water is being supplied, or if you frequently run out of water, a booster pump could solve your problem!
How much pressure do you need? Most people prefer higher water pressure when taking a shower, but pressure that is too high can be dangerous for your plumbing appliances. A pressure reducing valve is located in most homes to maintain water pressure and should be kept below 60 psi, as anything more could hurt your home's system.
The type of booster pump you need depends on the amount of water your home uses. The professionals at Len The Plumber can help you determine exactly which booster pump is best for your home's water pressure needs.
Are you tired of dealing with weak shower pressure? Contact Len The Plumber online or give us a call at (800) 950-4619(800) 950-4619 to schedule your appointment today! We can get your water flowing at an optimal pressure for a price you can afford!