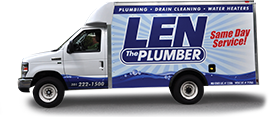 In more rural areas of Northern Virginia, homeowners rely on their wells and well pumps, instead of a city water supply. For these Northern Virginia residents, a problem with their well pump can interrupt their access to clean water.
Whenever that happens, the team at Len The Plumber will be ready to help! For more than two decades, our trusted Northern Virginia plumbers have been providing top-quality well pump services, from new installation and replacement to troubleshooting and well pump repair service.
Call (800) 950-4619(800) 950-4619 or contact Len The Plumber online to schedule well pump service in Northern Virginia.
Whether you contact us for troubleshooting and minor repairs in Manassas, VA or major well repairs in Arlington, you can always count on Len The Plumber for:
Fast, responsive service
FREE written estimates and upfront pricing
Same day and emergency plumbing service at no extra charge
Exceptional workmanship and solutions from experienced plumbers who can get the job done right the first time!
Well Pump Repair in Northern Virginia
Well pumps are designed and built to be dependable and long-lasting. With year after year of use, however, standard wear and tear can damage essential components, causing well pump problems. If that happens at your Northern Virginia home, don't hesitate to contact the well pump repair experts at Len The Plumber!
Common signs that it's time to contact Len The Plumber for well repair service include:
Poor or no water pressure
Cloudy or muddy water at the pump
A short-cycling well pump
Lost air in the water tank
A faulty water pressure control
Malfunctioning water pump control switches
And more!
Are you dealing with these problems at your Northern Virginia home? Are you looking for "Arlington well repair service near me"?
If so, call (800) 950-4619(800) 950-4619 or contact Len The Plumber online!
Our Northern Virginia plumbers will respond quickly, fully equipped to diagnose and repair the issue so you can be confident you have reliable access to water whenever you need it!
We proudly serve Alexandria, Arlington County, Fairfax County, Falls Church, Loudoun County, Prince William County, Stafford County, and surrounding areas!
Well Pump Replacement & Installation Service in Northern Virginia
On average, the service life for well pumps is about 8 to 10 years, depending on several factors, like:
Whether the pump has been correctly sized
How the well pump was installed
The water demand and needs for the home
When it's time for well pump replacement, the experts at Len The Plumber can help with everything necessary to get the right new pump installed efficiently and correctly. We can:
Evaluate your home's water usage and needs
Determine your well's depth and the horsepower needs for a new pump
Identify your best options for new well pumps
Flawlessly complete the well pump replacement or installation service
Test your new pump to ensure it's working correctly
To schedule well pump replacement or installation in Northern Virginia, call Len The Plumber at (800) 950-4619(800) 950-4619 or contact us online now. We offer flexible financing options, as well as 24-hour emergency service at no extra charge!
Frequently Asked Questions About Well Pumps
We have dedicated years to providing top-rated well pump services in the Northern Virginia area, so we often encounter the same questions from homeowners, time and time again. We've put together some of the common questions we receive along with answers from our well pump experts.
Why is my well pump short-cycling?
The most common thing we see as a cause for well pump short-cycling is loss of air in the water pressure tank. Some other causes could be:
Loss of air charge in water tank
Problems with the water pump pressure control switch
Faulty water pump wiring
Blocked water supply piping
Clogged water filter
Overcharged water tank air
Damaged water tank bladder
Water tank leaks
Leaks in well pipe
While it may be difficult for a typical homeowner to discern the exact cause of their pump's short-cycling, the qualified team at Len The Plumber can diagnose the issue quickly and provide the precise repairs and services you need.
Why is my water pressure so low?
Low water pressure is certainly a frustrating issue, especially when it comes to showering. There are a number of things that can cause low water pressure, from clogged water filters to flow restrictors. Some common causes of low water pressure include:
Debris and mineral buildup in pipes
Corrosion buildup in pipes
Plumbing leaks
Problems with your city's water supply
Our water pressure experts can get to the bottom of your low-pressure problem fast and provide comprehensive, long-term solutions – guaranteed!
How can I fix low water pressure from a well?
How long does a well pump last?
Typically, your well pump will last anywhere from 8 to 10 years. If your home has low or moderate water use, your well pump could last upwards of 15 years. Professional installation of a correctly sized well pump also plays a role in prolonging the service life of your home's well pump.
Do I need a pressure system for my well?
If you experience frequent pressure fluctuation from your well pump, you could benefit from constant pressure system installation. This will allow the motor speed on your well pump to change in order to maintain a constant pressure. The results are consistent water pressure, reduced stress on your pump, and savings on your energy bill, as your system will adjust accordingly to meet your water pressure demands. If you'd like to discuss constant pressure system installation for your home, contact Len The Plumber today!
Why won't my well pump turn off?
Your home's well pump is designed to turn off when it reaches a certain pressure. If you have a significant leak within your well piping, the water pressure is ultimately lowered within your system. If the pressure is too low, your pump will continue running as it tries to reach the desired pressure. Our team can quickly and effectively locate and stop your leak, if this is the case.
Why is no water flowing from my well?
While you will most likely need assistance from your local plumber for this one, there are steps you can take to try and remedy the problem on your own. First, check your electrical panel to ensure that the circuit for your well pump is switched on. If it's in the "off" position, flip it to "on" and see if that solves the problem. The next thing to check is your pressure tank. Look at the pressure gauge to see if the reading is above 20 psi. The necessary pressure will vary depending on your pressure tank, but if your tank is showing pressure, then your issue is likely within your home and not a problem with the well pump or well. If you can't diagnose the problem on your own, don't despair! Contact Len The Plumber and we'll provide prompt repairs to get your water flowing again!
Schedule Well Pump Service in Northern Virginia
When you need Northern Virginia well pump service from expert plumbers, you need Len The Plumber! From sizing and replacing well pumps to repairing all types of pump problems, we've done it all. That means we know how to quickly and reliably provide first-class well pump services no matter what your needs may be.
Call (800) 950-4619(800) 950-4619 or contact Len The Plumber online now to schedule well pump service in Northern Virginia. We offer same day service, upfront pricing, and emergency service at no extra charge!
We also encourage you to check out our excellent reviews to see why our customers love us and why we're a leading plumbing company in Northern Virginia. But don't take our word for it—contact us to experience our excellence for yourself!