Expert Plumbers in Northern Virginia
Looking for a reliable local plumbing company that can help you today? You've come to the right place. At Len The Plumber, we know your time is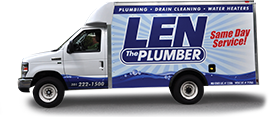 valuable—between work, social engagements, and managing your household, you hardly have a moment to spare. That's why our local team provides same day service seven days a week and emergency service at no extra charge. We dispatch plumbers from their homes so they can get to you quickly—your plumber might even live right around the corner from you!
You have plenty of options when it comes to plumbing companies in Northern Virginia, but we truly believe we're the best. Our experts are licensed, local, and respectful—they'll take the time to explain the work they're doing and take care of your home as if it were their own. Plumbing is all we do, so we know it well—we can solve any plumbing problem you're experiencing, guaranteed.
Areas we serve in Northern Virginia include:
We can help you today! Call (800) 950-4619(800) 950-4619 now for top-quality plumbing service in Northern Virginia.
What to Expect When You Choose Len The Plumber
We know you don't want surprises when it comes to hiring a plumbing company. That's why we tell you who's coming to your home ahead of time, give you an estimate before we complete any work, and never hit you with hidden fees for emergencies or weekends. When you hire us, you can expect:
A profile of your plumber sent before they arrive so you know exactly who's coming.
Friendly, respectful customer service from professionals who care.
Fully stocked trucks so our plumbers have everything they need to solve your problem on the first trip.
Same day service at a time that's convenient for you.
Emergency plumbing services at no additional cost.
An optional complimentary whole-home plumbing inspection with any service.
Don't waste your time on amateur handymen or companies who make you wait days for service—we provide the highest quality repairs and replacements, and we can be at your home the same day you call (even on weekends and holidays). Call (800) 950-4619(800) 950-4619 now and let us know how we can help.
Comprehensive Plumbing Services in Northern Virginia
From complex sewer line problems to faucet leaks, Len The Plumber is here to restore comfort to your home quickly. Our experienced plumbing specialists can provide dependable solutions to any plumbing issue, including:
Whether you know what plumbing problem you're dealing with or can only identify the symptoms, we're here to help. Call us at (800) 950-4619(800) 950-4619 or contact us online today.
Ready to Experience the Len The Plumber Difference?
Len The Plumber's licensed Northern Virginia plumbers can tackle any plumbing issue. Plus, having a well-staffed and local team means we can get to you quickly no matter when you call us.
Don't hire the wrong plumbing company. Call us at (800) 950-4619(800) 950-4619 or schedule online to see why your neighbors trust Len The Plumber for all their plumbing needs.
What to Expect
From Len The Plumber
Plumbing
Experts
"Plumber" is in our name, and it's all we do. We can handle any plumbing problem, guaranteed.
Zero
Surprises
You'll get a profile of your plumber before they arrive so you know who's coming, and they'll show up on time (every time).
A Local
Team
We dispatch plumbers from their homes so they can get to you quickly. Your plumber might live right around the corner!
Fully Stocked
Trucks
We provide our plumbers with everything they need to solve your problem on the first trip.
Respectful
Service
Our plumbers are friendly, considerate professionals who will treat your home and family with kindness.
Learn More
We Deliver Prompt, SAME DAY SERVICE To Your Home
Our multiple service locations make it easy to deliver prompt, same day service. No matter where you live, we're already in your neighborhood. Our trucks are always fully stocked to fix whatever plumbing or drain cleaning problem we encounter. Our certified plumbers will be able to help you no matter how big or small the problem is.
RECENT CUSTOMER REVIEWS
"My experience was great. I was surprised at how quick they were able to get to me. And…. Darryl was prompt, pleasant and skillful. Thanks so much!!"
-Janet Bailey
RECENT CUSTOMER REVIEWS
"Mark was very helpful and efficient. The problem got sorted and everything was left in great condition. Floors wiped, sink clean, and new garbage disposal in working condition. Thanks"
-Htet Htet Aung
RECENT CUSTOMER REVIEWS
"Sylvester came in and immediately started working on water heater. He was very friendly and professional. Great service and the water heater looks nice and shiny."
-Raven Ti'Lyndel
RECENT CUSTOMER REVIEWS
"Nelson was so professional, knowledgeable and kept us informed the entire time. So glad we went with Nel the Plumber for our repairs!"
-Zachar
RECENT CUSTOMER REVIEWS
"Martin was so easy to work with. He replaced the toilet and fixed the whole isue we had for the last three years. Yes it was a bit pricey, but I am happy with the job, and I won't have to worry about it anymore."
-Ivonne Martinez
RECENT CUSTOMER REVIEWS
"Excellent work and great value. Prompt and polite."
-Mary Rose Amidjaya
RECENT CUSTOMER REVIEWS
"Great job! Professional and helpful."
-Elizabeth McCawley
RECENT CUSTOMER REVIEWS
"Josh was prompt, professional, polite and very thorough. Highly recommended."
-Hector Moncada
RECENT CUSTOMER REVIEWS
"My fixture valve was rusted shut, preventing us from completing a leaking toilet repair. The technician arrived within 2hrs of my service call, and had it fixed in no time."
-Lynda Bennett
RECENT CUSTOMER REVIEWS
"I was extremely pleased with the service Josh provided. He is customer oriented, professional, and very thorough in his explanation of the options available. I would definitely have him do additional work should the need arise"
-Lisa Corbin
Schedule Service
Frequently Asked Questions
We Can Handle Any Plumbing Service—Guaranteed!
Plumbing
Drain & Sewer
Water Heaters
Wells
Len The Plumber BY THE NUMBERS
22
Years Serving the Mid-Atlantic
60,000
Families Served Each Year
5 / Day
Sewer & Excavation Jobs
Plumbing Is All We Do!