Water Pressure Boosters for Your Home
From your shower and your sink to your dishwasher and your washing machine, low water pressure can affect a number of tasks in your daily routine. You shouldn't have to deal with fluctuating or consistently low water pressure. That's why Len The Plumber offers constant pressure system installation for our customers in Northern Virginia and the surrounding area!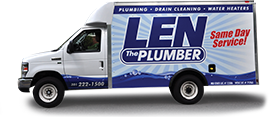 If you're tired of dealing with inconsistent water pressure, give Len The Plumber a call today. We can install a constant pressure system so you won't have to worry about your water pressure anymore. Same Day Service, 7 Days a Week – that's the Len The Plumber promise!
Improve Water Pressure in Your Home
Len The Plumber offers water booster pump installation in your home, whether you're on well water or hooked into the city water supply. Booster pumps aren't just for multistory buildings or power washing hoses – if you feel like your sink or shower flow is weak, you can use them in your home too.
Installing a booster pump can improve the water pressure of all your plumbing fixtures. If your water pressure is lower than you'd like, if your toilets take too long to fill, or if you can't use more than one water outlet at a time, call Len The Plumber!
Len The Plumber delivers professional booster pump services that will solve your water pressure problems! Give us a call at (800) 950-4619(800) 950-4619 or contact us online to schedule your booster pump services today!
Certified Booster Pump Services in the Northern Virginia Area
Whether you're on city or well water, low water pressure in your home can be a pain. Installing a booster pump will improve water flow to all of your plumbing fixtures and appliances, including:
Sinks and showers
Toilets
Dishwashers and washing machines
Lawn sprinklers
If you want to improve your water pressure, don't wait – call Len The Plumber for Same Day Service, 7 Days a Week – call us for booster pump installation today!
Constant Pressure Systems in Your Northern Virginia Home
With a constant pressure system, it's easy to have comfortable water pressure whenever you need it! In addition to ideal water pressure, constant pressure systems provide a number of real benefits, including:
Easy installation in existing water systems – no need for construction!
Smooth, quiet operation
Choice of pressure settings
Built-in pump system protection
Electronic protection features
When you install a constant pressure system in your home, you can rest assured that your water pressure will remain steady regardless of how many members of your household are consuming water.
How Does a Constant Pressure System Work?
Conventional systems operate at an unchanging speed, while a constant pressure pump is uniquely tailored with a built-in variable speed motor that can increase or reduce speed as necessary. As more faucets are used, the constant pressure pump will automatically increase its speed to maintain your chosen pressure. This ultimately means you can comfortably use your shower, dishwasher, sprinklers, and toilet simultaneously without affecting the output pressure of your water. Len The Plumber's certified technicians can expertly install your home's constant pressure system regardless of whether you use well water or city water.
Tired of inconsistent water pressure throughout your home? Call us today at (800) 950-4619(800) 950-4619 or schedule an appointment online to speak with one of our excellent customer service representatives about your home's unique water pressure needs!
Our certified plumbers have years of industry experience and provide the highest level of quality for each and every project. They are background-checked and drug-tested, and will always treat your home with the utmost respect! Call us today at (800) 950-4619(800) 950-4619 or fill out our online service request form to schedule constant water pressure system services for your Northern Virginia home today!