Laundry room remodels are becoming one of the most popular remodeling projects for families in the Northern Virginia corridor. This is particularly true in older homes, where laundry rooms are often the most poorly designed room in the whole house!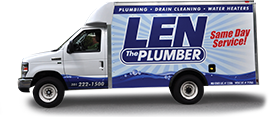 One of the most popular additions to new laundry rooms is to install utility sinks or laundry tubs for hand washing clothes or storing muddy shoes.
If you want to install a utility sink, call Len The Plumber today! Our plumbing experts can install a utility sink or laundry tub in your new laundry room, whether the existing plumbing or drainage already exists or not. If you want a laundry sink or utility sink installed, call Len The Plumber!
If you're having issues with your laundry or utility sink, from basic repair to a full sink replacement and installation, call Len The Plumber! Our friendly staff is standing by and ready to help. You'll get Same Day Service, 7 Days a Week.
Call us now or schedule an appointment online!
Common Laundry Sink Issues
Laundry sink issues range from broken faucets and fixtures to cracked tubs and clogged drains. No matter what type of issue you're having, our plumbers have seen it – and fixed it – before!
Call us now if you have any of the following:
Broken or leaking laundry sink faucet
Cracked or broken laundry sink tub
Leaking pipes or fixture
Low water pressure
Clogged drain or water backing up in your utility tub