If you have a bathroom, laundry room, kitchen or wet bar in your basement, you most likely also have a sewage ejector pump installed.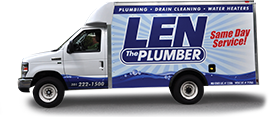 Sewage ejector pumps are designed to pump water and effluent to the sewer line when the toilet or sink is lower than the main line.
Your sewage ejector pump is something you probably never think about. But if it stops working, it can cause real problems! If your basement bathroom is clogged, don't waste any time – pick up the phone and call Len The Plumber for sewage ejector repair or replacement today!
We offer same day service, 7 days a week. From basic sewage ejector pump repair to entire sewage ejector pump replacement, no job is too big or too small. At Len The Plumber, we specialize in matching the right plumber to the right job and all of our service trucks are kept fully stocked.
If you approve the work, we'll get it done the same day! And we always provide upfront written estimates.
Sewage Ejector Pump Problems
Sewage ejector pumps help lift waste water from the basement to a height for gravity drainage. Because of the nature of their job, it's extremely important that you install the right type of sewage ejector pump, and that the plumber who does the ejector pump installation sizes it properly.
The most common sewage ejector pump problems are caused by pumps that are too small or were hastily and improperly installed by plumbers or handymen looking to cut corners. If you're remodeling your basement and adding a bathroom, or if your sewage ejector pump fails and you need it replaced, don't call just anyone – call the professionals at Len The Plumber!
If you have a sewage ejector pump problem call one of our friendly customer service reps today. We'll help you get your ejector pump fixed fast!