When your plumbing system springs a leak, the results can be catastrophic. If left untreated, a leak can easily lead to irreparable damage to your home and personal property. For the leak detection services Northern Virginia residents need in a pinch, Len The Plumber has you covered.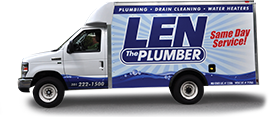 At Len The Plumber, we proudly offer Northern Virginia families the fast, reliable leak detection services they need to avoid devastating water damage in their home. Contact our team to schedule the leak detection services you need today!
Signs Your Virginia Home Has a Leak
Usually, when we think about a leak, our minds instantly go to floods of water pooled on the floor beneath the obvious source of the problem. But that isn't always the case: There are many different ways in which homeowners can tell if their home has a leak. The following are just some of the signs that may indicate it's time to contact a plumbing professional for leak detection services:
Sudden increase in water bills
Wet spots on the floor, walls, or ceiling
Water stains on the floor, walls, or ceiling
Mold growth
Peeling paint
Unusually low water pressure
Sagging ceiling
Rusted metal around your plumbing fixtures
Strange noises coming from your plumbing system
If you've experienced any of the aforementioned signs of a leak in your home, it's high time you contact the expert plumbers at Len the Plumber. Schedule leak detection services in your Northern Virginia home by contacting our team today.
Our Leak Detection Services
At Len The Plumber, our team is expertly trained to use the industry's most advanced tools and techniques to deliver long-lasting solutions for the source of your home's leak. Using sophisticated video camera technology, our team will be able to pinpoint the root cause of your leak — even if it's underground!
Once we've identified the cause of the leakage, our team will make an expert recommendation on what repair or replacement services you'll need to resolve the issue once and for all. We stop at nothing to ensure your home is as protected as possible from plumbing-related water damage.
Contact us to get the comprehensive leak detection services you need today.
Why Len The Plumber for Northern VA Leak Detection?
Our team is committed to more than just delivering the long-lasting leak detection and repair services that Northern Virginia families can trust: We're dedicated to providing an exceptional customer experience from the moment you call us for service. When you select Len The Plumber's team of master plumbing technicians, you'll always receive:
On-time, tidy professionals expertly trained in the latest industry tools and techniques
Upfront, honest pricing without extra charges for weekend or evening service
Optional, free whole-home plumbing inspection
Background-checked and drug-tested plumbing professionals
We understand that leaks can appear at any time, which is why we pride ourselves on delivering same-day service. No matter when your home springs a leak, our team will be there to provide the long-lasting solutions you need.
Experience the difference of working with a team that cares by contacting Len The Plumber today!
Schedule Leak Detection Services Today!
When a leak appears in your home, Len The Plumber has the expert professionals to get the job done right. Don't let a leak destroy your home and personal property: Get the professional service you need from a team that Northern Virginia has trusted for more than 20 years.
Contact Len The Plumber for leak detection services today.