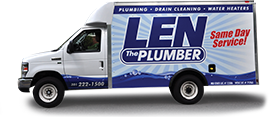 Your sewer line is one of the most critical components of your home's plumbing system, responsible for carrying waste from toilets, tubs, and sinks to the main sewer under your street. A leak or clog within your sewer line can be extremely difficult to detect without the proper equipment, making it imperative that Northern Virginia homeowners have access to the sewer line inspection services they need to protect their plumbing systems from excess damage.
Len The Plumber provides sewer video camera inspection services to help Northern Virginia families keep their systems in the best condition possible. Using the most advanced industry tools and techniques, we'll pinpoint any issues that may be negatively affecting your sewer line.
Suspect something might be trapped in your sewer lines? Call (800) 950-4619 to schedule sewer video camera inspection services in Northern Virginia today!
Signs Your Northern Virginia Home Needs Sewer Camera Inspection


Understanding when a problem exists within your sewer line is half the battle. Cracks, leaks, and clogs often remain hidden deep within your sewer line, making it difficult to detect when an issue is present. However, there are plenty of signs that homeowners can watch out for that will indicate it's time to schedule an inspection, including:
Foul smells around toilets or sinks. A gaseous smell or sewage odor is a strong indication that your sewer system isn't properly venting. Our team can pinpoint the problem using our sewer camera inspection equipment.
Low or fluctuating water levels. If you notice the water level in your toilet fluctuating from day to day, you could have a clog or leak within your sewer system.
Slow draining. There could be a severe blockage to blame if the drains in your tubs or sinks are unusually slow. The best way to find the clog is through sewer line camera inspection.
Septic tank overflow. One of the strongest indications of a failed sewer line is the presence of sewage in your yard.
Have an inexplicable sewer line problem on your hands? Don't hesitate to get the same day assistance you need by calling (800) 950-4619 to schedule sewer line camera inspection services in Northern Virginia today!
Benefits of Sewer Line Camera Inspections for Virginia Homes
Even if you don't suspect that your sewer line is experiencing issues, it's a good idea to make sewer line camera inspection a part of your annual plumbing maintenance routine. Regular sewer line inspections can help you identify repair needs before they escalate into a full-scale plumbing emergency. Since you'll catch repairs early, you'll avoid the cost of expensive emergency services down the road.
Whether your sewer lines have been compromised or you're simply scheduling a routine inspection as a preventative measure, Len The Plumber can help. Call our team at (800) 950-4619 to schedule sewer line inspection services today!
Schedule Sewer Inspection Services in Northern Virginia!
At Len The Plumber, our team is proud to be Northern Virginia's trusted source for sewer camera inspection. As our customer, you can have peace of mind knowing that when you choose our team for sewer line inspection services, you'll always receive:
Certified, continuously trained plumbing technicians
Prompt appointment arrival at a time that's convenient for you
No overtime, evening, or weekend charges
Upfront, honest service estimates with a complete explanation of all recommended services
Same day service available seven days a week
When you need sewer line inspection services in your Northern Virginia home, trust the team that serves more than 60,000 families each year. Call Len The Plumber at (800) 950-4619 to schedule sewer video camera inspection today!