Gas water heaters are among the most reliable water heaters you can get, making them a popular choice for many people.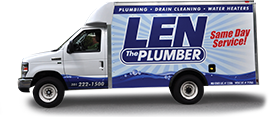 And if you want your water heater to last you as long as possible, you've got to go with a Northern Virginia plumbing company you can count on – Len The Plumber! We provide same day service, seven days a week. With an office in Lorton, we're in your backyard whenever you need us!
Our water heater experts service Fairfax, Fairfax City, Alexandria, Arlington, Loudoun, Prince William, Falls Church, and Manassas counties.
Our friendly water heater repair technicians will arrive promptly, figure out exactly what your water heater needs are and take care of them right away. We've serviced hundreds of gas water heaters over the years, so no matter what services you need, we can help!
At Len The Plumber, we make it easy for you to have quick water heater service. Whether you want gas water heater repair or replacement or you need to install a new gas water heater in your home, fill out the form on the right or call us today!
Gas Water Heater Services
At Len The Plumber, we've fixed just about everything that can break on a gas water heater! And even when things seem bad, remember that no gas water heater issue is too large or too small for our Baltimore plumbing experts! Call us today if:
You have hard water scale
You're not getting enough water from your gas water heater
You're not getting enough hot water, or the water is too hot
You have a rusty hot water heater tank or rust-colored water
Your water heater is making a high pitched whining noise
You have water leaking around the base of your water heater
If you notice any of these things happening with your gas water heater, don't wait –click or call Len The Plumber for service today!
Why Choose Len The Plumber
Same Day Service, 7 Days a Week because you don't always want to wait when there's an issue. We'll arrive on time and always give you an up-front written estimate before any work is done. We specialize in matching the right technician to your job and keep each of our trucks fully stocked so we're prepared to get the job done for you – the very same day! We never charge an overtime rate or extra for evenings and weekends. We work around your busy schedule.
We consider our plumbers the best in the business. Our certified technicians have years of valuable experience providing you with the highest level of quality in every gas water heater job. They are background checked, drug tested and will treat your home with respect and do a thorough cleanup, leaving your home looking great!