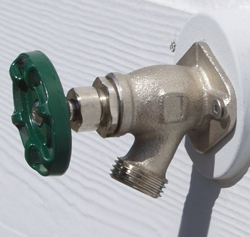 Is the hose bibb outside of your home a threat to your plumbing every winter? Do you fret about the potential for burst pipes and flooding?
While older hose bibbs can cause these problems, newer ones have been designed to eliminate the threat of water damage from frozen hose bibbs.
If your home in Philadelphia or the Delaware Valley has a hose bibb that needs replacement or repairs in response to winter damage or any other cause, contact the plumbers at Len The Plumber today!
What Is a Hose Bibb?
A hose bibb is a technical term for the faucets outside of your home that you can attach a hose to. A frozen hose bibb is naturally a cause for concern when the winter dips below freezing because the spigot and connecting pipes often exist outside of your insulation and get exposed directly to the elements.
If water freezes in your hose bibb, it can cause major leaks and burst pipes when the water thaws, creating significant water damage. Fortunately, modern hose bibb designs prevent this problem.
Modern hose bibbs, also known as frost-proof bibbs, freeze-proof faucets, and sill cocks, are made so that the valve seat where the water sits in the closed faucet is actually inside of your home and thus kept warm.
Our Hose Bibb Repair & Replacement Process
The team at Len The Plumber has seen countless hose bibbs after a winter freeze. You can take us at our word when we say that you don't want to find out about hose bibb damage for the first time when you have frozen pipes.
Our Philadelphia and Delaware Valley plumbers follow a reliable step-by-step hose bibb repair and replacement process to minimize damage and get things back to normal:
Drain your outdoor faucet
Cut the water supply line
Replace the old outdoor faucet with a new frost-proof model
Fit and solder connections
Reinstall the stem assembly
Need help with a frozen hose bibb or ready to replace your hose bibb before your pipes freeze? Call Len The Plumber at (800) 950-4619(800) 950-4619 today!
Hose Bibb Repair in Philadelphia & the Delaware Valley
Hose bibbs are convenient when you need outdoor water access for gardening, washing your car, and more but can create a number of issues if left damaged for long periods.
You might need hose bibb repair if you notice:
Water pressure causing basement leaks
Lush greenery around your hose bibb
Excessive pests around your outdoor faucets
Unusually high water bills
Rust or corrosion
Regular freezing of outdoor faucets in winter
Whether it's a small leak or massive damage, contact our team quickly for service. We'll quickly figure out why your hose bibb is causing trouble and repair it — and if that's not possible, we'll help you explore your options for replacement.
Reach out to Len The Plumber online to set up a visit for hose bibb repair services for your Philadelphia or Delaware Valley home, or call us at (800) 950-4619(800) 950-4619 today!
Hose Bibb Replacement in Philadelphia & the Delaware Valley
Need a hose bibb replaced due to serious damage, outdated design, or any other reason? Signs of trouble that warrant replacement include:
Faucets that freeze any time the temperature drops
Older designs that are likely to freeze
Problems that come back after repairs
Wear and tear from years of use
Len The Plumber will provide you with the best models for avoiding hose bibb trouble in the future and install your new hose bibb perfectly to specifications. With a new freeze-proof faucet, you won't have to stress about frozen pipes every winter.
Call (800) 950-4619(800) 950-4619 or contact us online for an appointment today!
Schedule Hose Bibb Services With Len The Plumber
Leaky outdoor faucets don't have to be a problem every winter and spring. Reach out to the expert plumbing technicians at Len The Plumber today and let us resolve your hose bibb issues once and for all.
When you choose Len The Plumber, you'll benefit from our same day service seven days a week, our dedication to leaving your home as clean as we found it, full transparency, and a focus on polite customer service.
To learn more about our hose bibb services, call (800) 950-4619(800) 950-4619 or reach out to us online today!