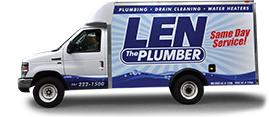 Are you paying too much to heat your water? Do you suffer through lukewarm showers if you're the last person to get ready in the morning? Save energy, lower your utility bills, and enjoy endless hot water by upgrading to a tankless water heater.
Len The Plumber offers the services you need to make a seamless transition. From the initial installation or replacement to ongoing maintenance and repair work, we'll make sure your tankless water heater runs dependably and efficiently for years to come.
If you think a tankless water heater might be right for you, call Len The Plumber at (800) 950-4619(800) 950-4619 to request an upfront estimate on installation, repair, maintenance, and replacement services in Philadelphia and the Delaware Valley area.
Tankless Water Heater Installation & Replacement
You're used to storing 60 to 100 gallons of hot water in a storage tank for quick access whenever you need it. Unfortunately, it takes a lot of energy to keep that much water hot 24 hours a day. Plus, if the hot water depletes, you have to wait 10 minutes or more for the supply to replenish.
Tankless water heaters are different. They generate hot water on demand, instantly heating water with powerful gas burners or electric coils. By only heating water when you need it, there's no standby heat loss and no bulky tank taking up space in a utility closet.
Allow Len The Plumber to help you choose an advanced, energy-efficient tankless unit to provide hot water for your home. The process of replacing your tankless water heater begins with a written estimate and information about your flexible financing options. Accurate sizing ensures optimal results, and haul-away service takes care of your old unit for you.
Contact us today to get the tankless water heater installation or replacement process started.
24/7 Tankless Water Heater Repair
Advanced technology and robust manufacturing allow tankless water heaters to perform reliably most of the time. However, they are not immune to breakdowns. If you're struggling with a low flow rate, insufficient hot water, strange noises coming from the tankless unit, or other problems, don't hesitate to call Len The Plumber. After 24 years of experience, you can trust that we've seen your problem before and can get the job done right the first time around.
To request emergency tankless water heater repair, call us right away at (800) 950-4619(800) 950-4619. We have an emergency team on call to handle your request. Best of all, we never charge extra for emergency visits or evening and weekend appointments.
Tankless Water Heater Maintenance
Many homeowners aren't aware that hot water heaters require routine maintenance. A quick visit from our qualified plumbers once a year can help lower your operating costs, reduce the risk of future breakdowns, and prolong the life of your tankless unit.
Len The Plumber provides tankless water heater maintenance for all brands and types of systems. Our services include:
Flushing the burner system
Calibrating the thermostat
Tightening electrical connections
Inspecting and testing the safety controls
And more
If your last maintenance visit was over a year ago, give us a call to arrange a visit from an expert plumber today.
24-Hour Tankless Water Heater Services in Philadelphia & the Delaware Valley Area
Whether you're ready to upgrade to a new way of heating your water, or your existing tankless unit needs some attention, our certified plumbers are ready to serve you. When you work with Len The Plumber, you can expect upfront estimates, same day service, and a courteous team that treats your home and family with respect.
For tankless water heater services in Philadelphia and the Delaware Valley area, call us at (800) 950-4619(800) 950-4619 today!