Sign Up for Len The Plumber Heating & Air's Whole Home Service Plan
You're quick to call a service company when your water heater malfunctions or your furnace breaks down, but preventative maintenance can actually reduce the risk of needing emergency repairs and premature replacements.
Len The Plumber Heating & Air's Whole Home Service Plan makes routine service easy because you're guaranteed three tune-ups each year.
Our HVAC technicians and plumbers will inspect, clean, and repair your heating, cooling, and plumbing systems to reduce wear and tear and ensure optimal function for years to come.
Discover the Benefits of the Whole Home Service Plan
At Len The Plumber Heating & Air, we aim to keep your life moving. When you entrust your HVAC and plumbing maintenance needs to our team, we guarantee we'll go above and beyond for you and your family.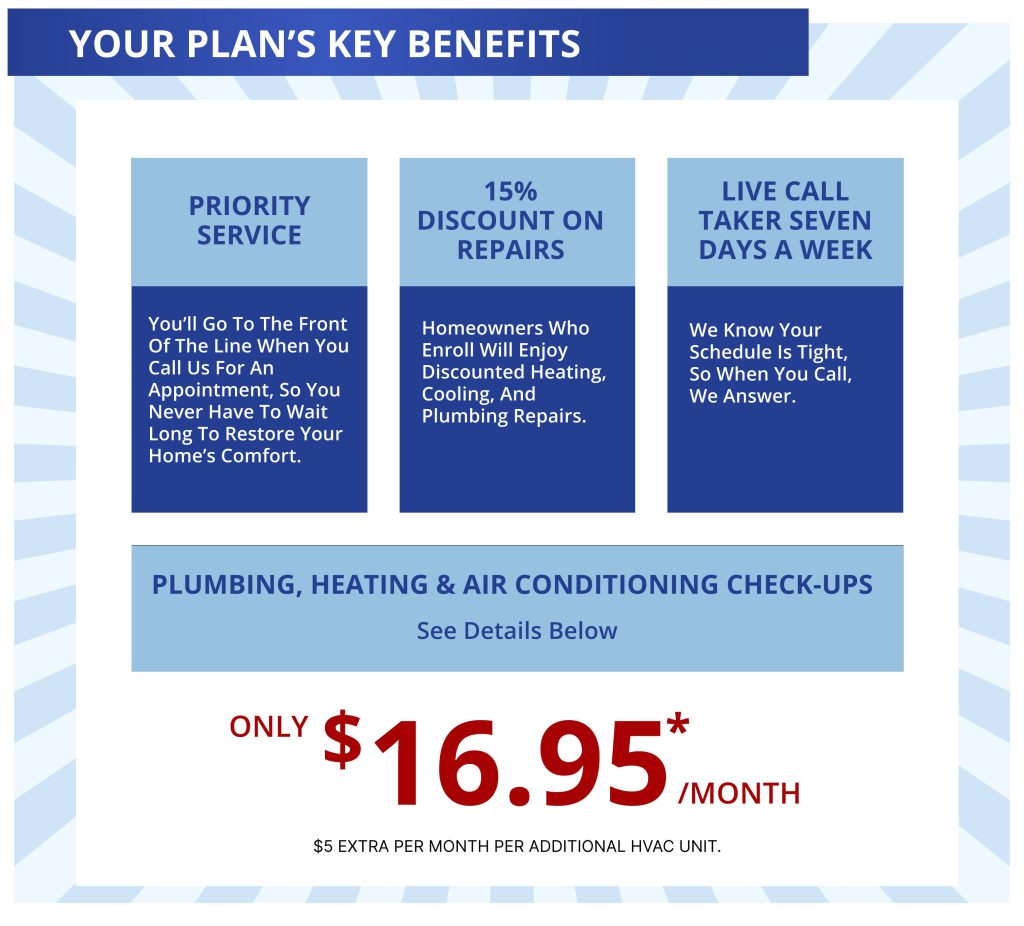 Heating & Air Conditioning Maintenance
Your HVAC systems are an investment in your home's comfort. When you keep up with routine maintenance, you maintain warranty compliance and ensure your systems operate efficiently throughout their service life.
Whole Home Service Plan members receive one heating and one cooling tune-up each year. Our team will:
Inspect air filters
Check refrigerant pressures
Clean outdoor coils
Clean burners and flame sensors
Inspect all motors and electrical connections
Perform a carbon monoxide safety check
Perform a combustion analysis for efficiency and safety
Check gas line connections to ensure safe operation
Check indoor humidity
Check thermostat operation
Plumbing Maintenance
Through careful inspections, skilled plumbers can identify the signs of malfunction long before those issues impact your plumbing performance. Preventative service reduces the risk of water damage and high utility bills down the line.
During your annual plumbing maintenance appointment, we will:
Dye test all toilets for water leaks
Check indoor faucets and outdoor sill cocks for leaks
Inspect exposed water supply lines for deterioration
Inspect all sink piping for corrosion or deterioration
Examine washing machine hoses to ensure you don't have an old hose that can cause damage and reduce cleaning effectiveness
Check that your gas, electric, or tankless water heater is operating efficiently
Inspect your water heater's drain valve
Run water pressure tests
Inspect, tag, and test main emergency shut-off valves
Inspect and test sump pump operation
Trust Our Team for All Your HVAC & Plumbing Maintenance Needs
At Len The Plumber Heating & Air, we deliver simplified home services and high-quality customer care to ensure your satisfaction.
By signing up for our Whole Home Service Plan, you're partnering with a home service company that will protect your family's comfort and convenience.
Call (800) 950-4619(800) 950-4619 or reach out online to protect your Montgomery or Bucks County home with the Whole Home Service Plan.