From sewers to sump pumps, drains, and more, Len The Plumber can provide a quick and reliable solution to a variety of plumbing issues. You can rely on our experienced plumbers to provide you with exceptional service for any of your plumbing needs.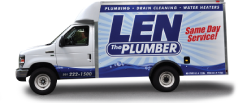 Don't hire the wrong plumbing company in Edgemoor, DE! "Plumber" is in our name, and plumbing is all we do. Call (800) 950-4619(800) 950-4619 or contact us online now for reliable service from our experts!
Top-Rated Local Plumbers in New Castle County, DE
Need a 24-hour plumber in Wilmington, DE? Len The Plumber proudly offers same day service and 24/7 emergency plumbing services, and we never charge extra fees for evening, weekend, or holiday appointments. Whenever you reach out to us, we'll be ready to help!
Why Are People in New Castle County Choosing Len The Plumber?
Fully licensed and insured local plumbers with decades of experience
Upfront written estimates before work begins
Evening and weekend service at no extra charge
The highest quality standards and results, backed by honesty and integrity
Exceptional financing options
Five-star reviews from countless satisfied customers
Looking for exceptional plumbing services in Edgemoor, DE? Look no further than the highly skilled plumbing professionals at Len The Plumber. Call (800) 950-4619(800) 950-4619 or contact us online to schedule your services!
Full-Service Plumbing Company in New Castle County, DE
Len The Plumber offers service for any residential plumbing needs, including:
General Plumbing
The team at Len The Plumber can meet all common plumbing needs, including installation, replacement, repair, and maintenance services for all residential plumbing systems, appliances, and fixtures. If your plumbing needs repairs, upgrades, or a simple tune-up, we have you covered.
Water Heaters
Is your water heater giving you trouble or due for replacement? We can offer maintenance, repair, and replacement services for all types of water heaters. We're equally comfortable working with gas or electric water heaters, traditional storage or tankless water heaters, and hybrid systems.
Drain Cleaning
Whether as a part of plumbing maintenance to avoid issues or to resolve stubborn clogs and slow drains, you can trust the team at Len The Plumber to deliver a thorough drain cleaning using the latest tools and techniques.
Sewer Lines
Have drainage issues, strange smells, or a conspicuous green or wet patch on your lawn? We'll assess the situation with a sewer line camera inspection, then recommend a course of action, including repair or replacement.
Well Systems
If you're reliant on a well for water, keeping it in good condition is vital to your health, safety, and quality of life. We offer a full selection of well system services, including well pump and booster pump repair, storage tank repair, and water conditioning and filtration services.
Hydronic Heating Systems
Use a hydronic heating system in your New Castle County home? Our plumbers can handle those too! We inspect, maintain, repair, and replace boilers, radiators, steam systems, baseboard heating systems, and more.
Water Lines
Are you having trouble with your home's water lines? We'll use the latest technology to assess the situation and resolve it whether you're facing tree root infiltrations, frozen pipes, corrosion, or anything else.
Gas Lines
Many systems in a home using gas-based systems need reliable gas lines in good working order. We can inspect and repair lines for your furnace, stove, grill, pool, water heater, and other systems.
Sump Pumps
When your sump pump fails on a rainy day, it can quickly become a disaster for your basement. Make sure you can trust yours to work well with testing, repair, and replacement services from Len The Plumber.
Struggling with plumbing problems in the New Castle County area? Don't stress! Call the experts at Len The Plumber today at (800) 950-4619(800) 950-4619, or contact our team online!
Choose Len The Plumber for 24-Hour Emergency Plumbing Service in Delaware
Plumbing emergencies demand immediate attention. The longer they're left without a fix, the more likely they'll cause serious water damage.
At Len The Plumber, we know you can't wait for standard business hours, special order plumbing parts, and unresponsive plumbers when a crisis arises ― that's why we're always ready to respond, day or night, 365 days a year, fully equipped and ready to tackle even the most challenging plumbing emergencies.
Plus, we never charge extra for emergency service. That can give you peace of mind that you'll get the quick plumbing service and reliable solutions you need without any additional costs, delays, or headaches!
Whenever you need an emergency plumber in Wilmington, DE, or anywhere else in the New Castle area, call Len The Plumber at (800) 950-4619(800) 950-4619. Our plumbing professionals are ready to provide superior service, whether the sun's above or below the horizon!
Areas We Serve in New Castle County
Len The Plumber proudly serves the entire New Castle County area, including:
To schedule expert same day plumbing services in Wilmington, DE, call (800) 950-4619(800) 950-4619 or contact us online now!