Most homeowners don't bother to schedule drain line cleaning services unless a major blockage presents itself. But ignoring your drain pipe cleaning service needs will only leave you with bigger problems to contend with down the road, such as wastewater backup.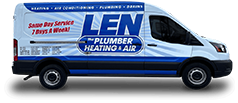 Philadelphia and Delaware Valley residents need fast, reliable plumbing professionals to deliver the drain cleaning solutions they need exactly when they need them. Len The Plumber has the highly skilled plumbing technicians you need to leave your drains sparkling clean in no time!
Don't wait until it's too late to schedule professional drain cleaning for your plumbing system: Contact Len The Plumber to schedule drain cleaning service in Philadelphia today.
Signs Your Home Needs a Drain Line Cleaning and Drain Repair Company
While it's recommended that you schedule professional drain cleaning at least once every 18 to 22 months, there may be signs that indicate you'll need to schedule service sooner. The following are just some of the symptoms that homeowners need to look out for that will show them it's time to schedule drain cleaning:
Slow drains
Strange odors coming from drains
Gurgling noises in drains
Frequent water backup
Blocked drains
Clogged pipes
An increased amount of pests
Problems when flushing the toilet and overall toilet backups
If you suspect your drains have become dangerously dirty for your plumbing system's health, it's time to contact your preferred plumbing professionals.
Call (800) 950-4619(800) 950-4619 to schedule same-day drain cleaning services with Len The Plumber today!
Our Emergency Drain Pipe Cleaning Services and Drain Installation in the Philadelphia Area
Our team knows plumbing like the back of our hand, boasting decades of valuable industry experience to help each Delaware Valley resident remain connected to reliable plumbing. We proudly offer a broad range of drain cleaning services and solutions, including:
Drain vent cleaning and opener
Pipe relining
Pipe cleaning
Pipe clearing
Rooter service
Rain leader drain service
When your Philadelphia home's drains are severely blocked, our team has the skills and tools necessary to restore them to working condition in no time.
Contact Len The Plumber to schedule professional drain cleaning for your home today!
Choose Len The Plumber for Philadelphia & Delaware Valley Drain Cleaning
At Len The Plumber, our team has proudly served as Philadelphia and Delaware Valley's preferred plumbing professionals for over 25 years. Our customers know they can rely on fast, efficient solutions backed by unparalleled customer service when choosing our team as their drain cleaning professionals. That's because we always provide:
Same-day drain cleaning services seven days a week
A full profile of the plumber providing drain cleaning services at your home
Fully stocked service vehicles equipped with all your drain cleaning service needs
Friendly, considerate service technicians who treat your home with kindness and respect
When you're seeking professional drain cleaning services near Philadelphia and Delaware Valley, there's no better team for the job than Len The Plumber. Call (800) 950-4619(800) 950-4619 to schedule drain cleaning with our team today.
Drain Cleaning FAQs
How often should my main drain be cleaned?
Our plumbing experts suggest having your drains professionally cleaned once every 18 to 22 months. Sticking to a strict drain maintenance schedule can help you prevent unwanted blockages and plumbing fixture breakdowns in the future.
What should I not put down my drains?
Drain clogs can happen for many reasons but are mostly caused by having foreign objects become lodged within your plumbing system. The following are just some of the major culprits behind severe drain clogs:
Hair
Oil and grease
Soap scum
Toilet paper/paper towels
Tree roots
Small objects, such as children's toys
Sediment
Food scraps
Sanitary napkins/feminine products
Drain cleaning chemicals
Is DIY drain cleaning safe for my plumbing system?
This depends on the type of DIY drain cleaning solution you use: One safe method for maintaining drain health between professional cleanings is combining one tablespoon of salt and a ¼ cup of white vinegar in your drains, then letting it sit for an hour. After the hour is up, pour a pot of boiling water down the drain to break up any dirt or sediment causing a blockage within your system.
Other than this DIY drain cleaning method, we do not recommend that you use store-bought drain cleaning chemicals to clear your drains. These products do more harm than good, often contributing to future blockages and deteriorating the integrity of your plumbing system.