Well water systems are one of Len The Plumber's specialties. Since well water systems can be complicated, we have certified technicians that specialize in this type of service. Whether you need a new well pump, a new storage tank, or help restoring your water pressure, our experienced well water service technicians can help!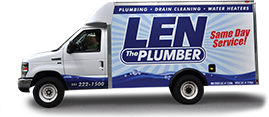 Our well water system experts service Delaware, Montgomery, Bucks, New Castle, and Chester counties.
24/7 Well Pump Repair & Replacement in Philadelphia & the Delaware Valley Area
Low water pressure? A faulty well pump or pressure tank could be the culprit. Damaged well pumps or pressure tanks will cause drastic reductions in water pressure, causing you frustration during basic daily chores. If your well pump is shot, then you may not get any water at all. Well pump repair and replacement services from Len The Plumber are a great way to ensure that your system is working properly to provide you with the water pressure you need.
How can you tell if your well pump or pressure tank is going bad?
There are several telltale signs that your Philadelphia or Delaware Valley area home needs well pump repair or pressure tank maintenance. If you notice any of these, don't hesitate to contact your local plumber to schedule repair or replacement services!
Fluctuations in water pressure throughout your home. Although there are many causes for fluctuations in water pressure, it's a good idea to have your plumber look into this to decipher the root cause. Well pumps use electric motors, so if your motor has stopped working, this will affect your water pressure.
Your pressure tank is making strange noises or clicking sounds. This could indicate that your pressure tank is losing air. When air leaks from the bladder of your pressure tank, it causes your tank to short-cycle, which puts a strain on the motor. A damaged pressure tank will reduce the overall life of your well pump.
Scalding shower when someone flushes a toilet. If your shower temperature drastically rises when a toilet is flushed in another bathroom, this is usually a pressure tank problem. Your home may need to be fitted with a modern single-handle valve, equipped with pressure-balancing spools.
Higher-than-usual water bills. Unfortunately, many people don't realize there's a problem with their well pump or pressure tank until they get hit with a higher utility bill. When problems reduce the efficiency of your well pump or pressure tank, they typically raise your water bill.
If your energy bill has been creeping up each month, contact Len The Plumber to schedule an inspection of your Philadelphia or Delaware Valley area home's water system. Our experts will get to the bottom of your problem quickly and at a price you can afford! Give us a call at (800) 950-4619(800) 950-4619 or contact us online today!
Well Water Conditioning & Filtration in PA & DE
Water softening helps reduce calcium and magnesium in hard water, while water filtration can help in removing bad tastes, smells, and impurities. Hard water can cause a variety of problems in a home such as the inability to lather soap and the buildup of lime scale, which can corrode your pipes. Water softening systems can reduce and eliminate these issues. Our team of certified technicians can have these systems installed for you today.
How Can I Tell If I Need Water Softening Services?
The effects of hard water can take a gradual toll on your appliances, laundry, hair, skin, and nails. Some of the common signs that you need water softening in your Philadelphia or Delaware Valley area home include:
Scale buildup on appliances
Dry skin
Clothes are faded and scratchy after washing
Sink and bathtubs are stained
Spots on glassware after washing
Higher-than-usual water bill
If any of these things sound familiar, just give the water softening experts at Len The Plumber a call and we will get to the bottom of your issue right away! Call us at (800) 950-4619(800) 950-4619 or contact us online today to schedule your appointment!
Booster Pump Repair, Replacement & Installation Services
Has your house all of a sudden lost water pressure? Len The Plumber can repair, replace, or install booster pumps to increase the water pressure in your home, regardless if you are on well water or city water.
Booster pumps increase the pressure and volume of water that flows through your home, providing needed pressure to move water from your storage tank or well to your faucet or shower. Operating similarly to a fan, booster pumps utilize an impeller to increase water flow and pressure.
If you're interested in learning more about how a booster pump could solve your Philadelphia or Delaware Valley home's water pressure problems, contact the experts at Len The Plumber and we'll help you choose the right booster pump for your home's needs!
Constant Pressure Systems for Your Philadelphia & Delaware Valley Area Home
Are you constantly dealing with inconsistent water pressure? Just give Len The Plumber a call and we can discuss your unique circumstances and help you select a constant pressure system that fits your needs and budget.
Storage Tanks & Controls in Philadelphia & the Delaware Valley Area
If you need a well storage tank repair, give us a call. We'll provide an upfront estimate and fast, same day service. From water tank float switches to water level sensors, our certified technicians can do it all!
Our goal is simple – to offer you trusted well system services from knowledgeable professionals and guarantee your satisfaction.
Our friendly team members are standing by ready to help! Call today at (800) 950-4619(800) 950-4619 for Same Day Service, 7 Days a Week, or fill out our easy online service request form. Our technicians will arrive on time and when it's convenient for you, always treating your home with care and respect!