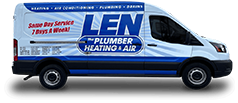 One of the biggest plumbing fears all homeowners have is facing a flooded basement. Without the right sump pump system in place, basement flooding can quickly lead to costly, catastrophic water damage in the home. Residents living in the Philadelphia and Delaware Valley area need a certified plumbing technician they can trust to deliver the long-lasting sump pump solutions they need. Len The Plumber proudly offers comprehensive sump pump services to tend to all your installation, replacement, and repair needs.
Keep catastrophic water damage away from your home by enlisting the help of the knowledgeable plumbing professionals at Len The Plumber. Contact us to schedule service in your home today!
What Is a Sump Pump?
A sump pump is an electric pump that's usually placed in the lowest area of your home (such as the basement) inside of a pit. When a heavy rainstorm strikes, water that would have otherwise collected in your basement will instead be redirected to the pit with the pump. Once the water level reaches a certain point, the float valve on the unit will active and flush the water from your home.
Why Should I Care?
Flooding is the most common natural disaster that homeowners experience in the United States, but here in Pennsylvania the risk is even higher. According to Philadelphia's Citywide Flood Risk Management Task Force, Pennsylvania has the highest flooding rate of any state in the country. Philadelphia is at an even higher risk due to its close proximity to the Delaware River.
Ensure your home is properly protected from severe flooding by outfitting your home with the sump pump solutions it needs. Contact Len The Plumber to learn more about our sump pump services today. 
Philadelphia & Delaware Valley Area Sump Pump Installation & Replacement
Our team proudly carries the most sophisticated sump pump solutions from the industry's most reputable manufacturers. Especially if your sump pump is older than six years, you'll need to replace the unit sooner than later with an upgraded system. We'll provide you with an expert recommendation on which of our state-of-the-art sump pumps are best suited for your home, professionally installing or replacing your existing unit in no time.
When your home needs professional sump pump installation or replacement services, there's no better team for the job than Len The Plumber. Contact us to schedule sump pump installation or replacement services in your Philadelphia/Delaware Valley area home today!
Sump Pump Repair in Philadelphia & Delaware Valley
Like all plumbing systems, your sump pump will inevitably show signs of needed repair services. If you notice the following symptoms of needed repair in your sump pump, it's high time you connect with the certified plumbing technicians at Len The Plumber:
Unusual sounds coming from your unit
Failure to activate
Continuous system running
Constant vibrating
Infrequent usage
Visible rust on the sump pump's exterior
Motor problems
Lack of water in the pit
Frequently tripped circuit breakers
At Len The Plumber, we understand that sump pump repair needs can arise at any moment. That's why we proudly offer same day service available seven days a week to customers throughout the Philadelphia and Delaware Valley region.
Get the expert repair services whenever you need them by contacting Len The Plumber today.
Why Choose Len The Plumber?
We aren't just Philadelphia's go-to source for sump pump solutions: Our team offers an unparalleled customer experience every step of the way. When you choose our team for your sump pump installation, replacement, and repair services, you'll always receive:
Upfront, honest pricing without any fees for overtime, evenings, or weekends
Optional free, whole-home plumbing inspection
On-time, tidy service professionals who are background-checked and drug-tested
Certified, quality plumbing technicians with years of valuable experience
We proudly serve more than 60,000 Philadelphia area families every year, providing the long-lasting solutions residents need to avoid catastrophic water damage in their homes. Have your sump pump issues resolves in no time by contacting Len The Plumber for service today!
Schedule Sump Pump Services in the Philadelphia & Delaware Valley Area!
Don't leave your home at more risk than it already is for basement flooding. Trust Len The Plumber to deliver the fast, effective sump pump solutions your Philadelphia/Delaware Valley area home needs to keep costly water damage at bay. Our certified service technicians have the skills and expertise necessary to get the job done right the first time, every time.
Contact us online or call us at (800) 950-4619(800) 950-4619 to schedule sump pump services in your home today.