A leaking ceiling or wall leak is usually a sign of a leak elsewhere in your home. Unfortunately,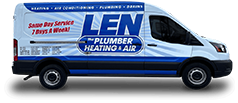 these leaks can be hard to pinpoint – water leaking from a pipe above one room can travel along the length of the pipe and drip onto the ceiling of a totally different room!
If you have a leaking ceiling or wall leak, call Len The Plumber! Our expert plumbing technicians have years of experience in leak detection and repair and can have your leaks fixed up in no time.
Water spots on your walls or ceiling can indicate severe problems with your pipes, so don't wait! Fill out the form to the right or pick up the phone and call us today – we'll find the leaks in your pipes and have them repaired as quickly as possible.
Leaking Ceiling Services in Philadelphia & the Delaware Valley Area
If you have water spots on your walls or ceiling, it can be hard to tell where they're coming from. Fortunately, there are ways that you can start looking for the leak yourself! If you have a leaking ceiling or a wall leak:
Gently shake your upstairs toilets to see if they are loose at all, and check for moisture around the base
See if the leak gets any worse when you shower, or if your shower floor gives slightly when you step on it
Run cold water from the sink and see if it leaks under the sink
If you find leaks from any of these areas call Len The Plumber today and let them know. These leaks can do some serious damage, especially if you're not expecting it.