Leaking water pipes behind the walls and above ceilings can cause serious issues for homeowners. Not only can they cause your water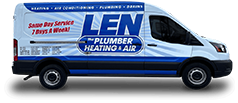 bills to skyrocket, but if left untreated, they can also cause serious water damage to your home's foundation! If your water bills are going up and your water pressure is going down, call Len The Plumber as soon as possible!
At Len The Plumber, we've seen and have experience with the damage associated with leaking water pipes. In other words, we know how to help. Our Delaware and Philadelphia plumbers are leaky pipe repair pros and we're available to take care of pipe repairs and replacement seven days a week!
If you have leaking water pipes, don't wait! Fill out the form to the right or pick up the phone and call us today! One of our expert technicians will have your leaking water pipes fixed up in no time.
Our Pipe Repair Services in Philadelphia & the Delaware Valley Area
At Len The Plumber, we've seen it all when it comes to leaking or damaged pipes. When you have a leaky pipe, give us a call and let us try to make your life easier. We offer fast, full-service pipe repair and replacement all around Delaware and Philadelphia, seven days a week. Call us today if you have:
Cracked or leaking water pipes
Sweaty pipes
Mysteriously increasing water bills
Don't let leaky pipes cost you time or money! Call Len The Plumber and talk to one of our friendly customer service reps about your leaking pipes and schedule your appointment today! We service the Delaware and Philadelphia area and are ready to help you.