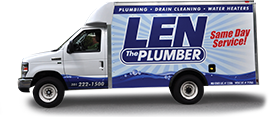 If you have a leaky faucet in your Northern Virginia home, don't ignore it! If left unrepaired, faucet leaks can waste water, drive up your bills, and even damage your home.
Fortunately, Len The Plumber can repair or replace your leaky faucet with ease. Whether you have a leaky faucet in your kitchen, bathroom, laundry room, or outdoors, you can trust our knowledgeable team to stop the leak once and for all.
Call Len The Plumber at (800) 950-4619(800) 950-4619 or contact us online for top-rated faucet repair and replacement service in Northern Virginia.
We offer same day service at zero extra cost, so you never have to wait long to get the plumbing repairs you need whenever you notice a faucet leak!
What Causes a Faucet to Leak?
When faucets work as expected, you probably don't think about these plumbing fixtures too much. However, as soon as they develop a leak, your faucets may become a major nuisance! Here are some possible reasons why taps leak:
Loose or damaged O-rings: If the small rubber ring around the valve stem is wearing out, the faucet may leak where the handle or spout meets the counter. Replacing the O-ring may fix the problem, but if the spout is badly pitted from hard water or a neglected leak, you may need to replace the faucet.
Corroded valve seats: The plastic connection in a faucet's compression mechanism may corrode over time. If this is what's causing the leak, you may have to replace the entire faucet.
Issues with the washer: A loose or damaged washer may cause a faucet to drip or chatter. Replacing the washer may solve this issue.
Worn inlet and outlet seals: In the case of disc cartridge faucets, the inlet and outlet seals may eventually wear out. Removing sediment from the seals may fix the leak.
No matter what may be causing your leaky faucet, our experienced Northern Virginia plumbers can fix it! Just call (800) 950-4619(800) 950-4619 or contact Len The Plumber online to schedule faucet repair or replacement service today.
Signs You Need a New Kitchen or Bathroom Faucet
Upgrading your faucets can have an incredible impact on your kitchen or bathroom. Here are the most common reasons homeowners decide it's time for a faucet replacement:
Leaky handles or constant dripping: Faucets can often be fixed, but it might be time for a replacement if yours keep having problems.
Rust and grime: After many years of use, old faucets may begin to corrode, especially if they're made of iron. Regular cleaning can help prevent mineral buildup, but if it's too late for that, consider replacing your faucets.
Poor function: Stiff or squeaky handles, poor water flow, or lack of aeration can impair the performance and efficiency of your aging faucets. New ones will improve the function of your kitchen or bathroom sink.
Outdated appearance: Update the look and feel of your kitchen or bathroom with a new faucet, complete with a contemporary style and trendy finish.
Our Northern Virginia plumbers can install beautiful, functional faucets throughout your home. You don't even have to purchase a new faucet from us for our team to install it for you! Just make sure the faucet you choose fits the mounting holes on your sink.
Have you noticed any of these signs that it's time for a new faucet? Are you ready to upgrade your home's faucets?
If so, call Len The Plumber at (800) 950-4619(800) 950-4619 or contact us online for faucet replacement service at your Northern Virginia home!
Full-Service Faucet Repair & Replacement Company in Northern Virginia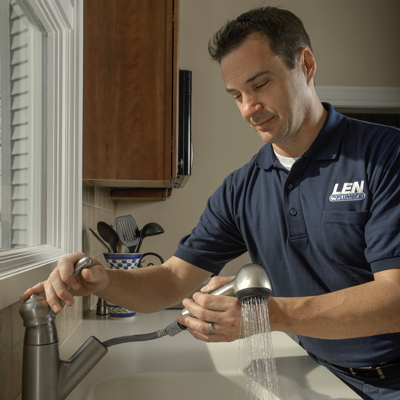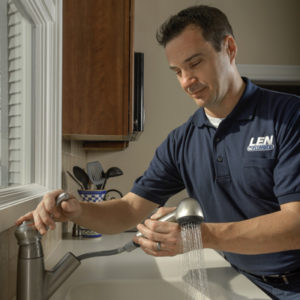 Len The Plumber can install, replace, and fix any faucet in your home. Get in touch the next time you need any of the following fixtures repaired or replaced:
Kitchen faucets
Bathroom faucets
Shower and tub faucets
Touch-activated or motion-sensing faucets
Outdoor faucets
Schedule Faucet Repair or Replacement in Northern Virginia
When you're ready to improve the appearance, functionality, and efficiency of your home's faucets, you can always rely on the experts at Len The Plumber. Our upfront estimates and no-surprises pricing give you peace of mind before the work begins.
Contact us online or call (800) 950-4619(800) 950-4619 for faucet repair or replacement anywhere in the Northern Virginia area.
And don't forget to check out our excellent reviews, industry-leading guarantees, and money-saving offers to see why we're a leading local plumbing company.