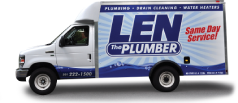 From gardening and washing the car to watering the lawn, we rely on our outdoor faucets more than we might think. When your hose bibb begins to show signs of wear and tear, it's best to repair or replace it sooner rather than later. Allowing your repair or replacement needs to go unresolved can lead to wasted water, increased expenses, and even structural damage to your home. At Len The Plumber, we provide the hose bibb repair and replacement services you need to ensure your outdoor faucets remain fully functional all year long.
No matter what your hose bibb repair or replacement needs may be, our team has the skills and services necessary to get the job done right. Contact us to schedule hose bibb repair or replacement services in your Northern Virginia home today!
How to Tell If Your Northern Virginia Hose Bibb Needs Repair
Allowing a broken hose bibb to remain undetected in your Northern Virginia home can lead to significant damage. From mold growth and structural damage to incredibly high water expenses, a lot can go wrong if you fail to fix your hose bibb in time. In order to catch hose bibb repair needs early, homeowners can follow the steps below to see if their system needs service:
Step One: Place your thumb over the spigot, covering the opening completely. If you have small thumbs, you may want to cover the opening with your palm instead.
Step Two: Turn the water on.
Step Three: If you can hold the water in without issue, it means there is a crack somewhere in the piping and a leak exists somewhere in your plumbing system.
Step Four: If you feel a lot of pressure and you can't hold back the water, your hose bibb is likely fine.
If you're having issues with your hose bibb and are unsure whether or not it needs repair, be sure to contact a certified plumbing technician. Len The Plumber is here to help with all your hose bibb repair needs, providing same day service when available, seven days a week.
Contact us online or call us at (800) 950-4619(800) 950-4619 to schedule hose bibb repair today.
Signs Your Northern VA Home Needs Replacement
Hose bibbs are designed to last for many years; however, the time will inevitably come when you'll need to replace the unit. Watch out for the following signs that may indicate it's time to replace your Northern Virginia home's hose bibb:
Dripping water or puddles present beneath the spigot
Water leaking down the spigot, wall, or piping
Visible rust on the spigot
Damage to components, such as a cracked handle
Strange noises emanating from your spigot, such as squealing or clanking
If you've noticed any of the aforementioned signs of needed replacement, don't hesitate to reach out to the knowledgeable professionals at Len The Plumber. Contact us to schedule hose bibb replacement services today!
Our Northern Virginia Hose Bibb Repair & Replacement Services
At Len The Plumber, our service team is deeply familiar with the needs of Northern Virginia hose bibb units. We provide comprehensive repair and replacement services throughout the region, using the industry's most advanced tools and techniques to deliver the long-lasting solutions families need to avoid catastrophic water damage in their homes. Featuring the highest quality hose bibb replacement products from the industry's most reputable manufacturers, our team will expertly install your replacement unit in no time for years of continuous use. We also provide same day repair services for all your urgent hose bibb service needs.
No matter what your repair or replacement needs may be, our certified plumbing technicians are here to provide the expert assistance necessary to resolve the issue once and for all. Restore your system's functionality by contacting our team for service today.
Why Choose Len The Plumber?
We aren't just Northern Virginia's go-to source for hose bibb repair and replacement services: Our team offers the most exceptional customer experience every step of the way. When you select our team for your hose bibb repair and replacement needs, you'll always enjoy:
Upfront, honest pricing with no extra fees for overtime, evenings, or weekends
Certified, background-checked, drug-tested plumbing professionals
On-time, tidy service professionals who work around your busy schedule
Same day service available seven days a week
Our team proudly serves upwards of 60,000 families throughout the Northern Virginia region each year, delivering the long-lasting solutions they can trust. Contact our team to get the hose bibb solutions your home needs today!
Schedule Hose Bibb Repair & Replacement in Northern VA Today!
Don't let a slow-leaking hose bibb destroy the structural integrity of your home. With top-rated products and services from Len The Plumber, you'll have the repair or replacement solutions you need for your hose bibb in no time.
Contact our team to schedule hose bibb repair or replacement services in your Northern Virginia area home today.