We're happy to report that warm weather is ahead, and we can (hopefully) put this past winter behind us.  If you're planning on doing some spring cleaning outside this month, you'll more than likely need to turn your outdoor faucet (commonly known as a hose bibb) back on.
The several weeks of cold temperatures during the winter could have potentially damaged the actual hose bibb or cracked your water supply line, which is the pipe inside that feeds the water to the actual hose bibb.
When it's time to turn your water back on, make sure you follow these important steps: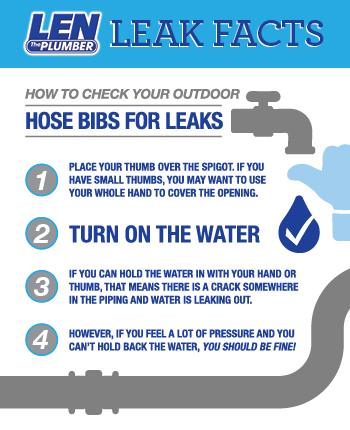 A leaky hose bibb or cracked supply line can result in damage to your home and also an increase in your water bill.  To read more about our hose bibb repair and replacement options, click here.
If you suspect that you have a water leak, give us a call today to diagnose the problem.  We're here to provide you with Same Day Service, 7 Days A Week—and remember, there's never an extra charge for evening or weekend service.