There's almost nothing worse than having a toilet in your home that you can't use. Even if it's a simple clogged or running toilet requiring toilet flange or flapper repair, one thing is certain – toilet installation or repair is something that can't wait!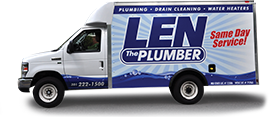 At Len The Plumber, we know how important it is to have your clogged or running toilets repaired or a new toilet installation done right away. When it comes to running, leaky, or clogged toilets, our Northern Virginia area plumbers have seen it all! Call one of our friendly customer service reps today and we'll schedule a technician visit fast. We're available to repair your toilet or come out for a toilet replacement today.
Don't wait on having your toilet fixed or installing a new one. Fill out the form to the right or pick up the phone and call us today – we'll have your clogged or running toilets fixed or have a new toilet installed in no time.
If you have a stubborn toilet clog, simply call Len The Plumber at (800) 950-4619(800) 950-4619 or contact us online to schedule your appointment! You can always count on our team to provide quick, efficient, and affordable plumbing!
Expert Toilet Installation & Repair Services in the Northern Virginia Area
There's nothing worse than that horrible feeling of flushing your toilet and watching the water rise to the top of the bowl, or reviewing your water bill to find that it's three times higher than usual. That's why our mission is to bring you fast, full-service toilet repair and toilet installation throughout the Northern Virginia area, 7 days a week.
Call us any time if you need:
Clogged toilet repair
Running toilet repair
Toilet installation
Leaking toilet repair
Toilet flush valve repair
Toilet flange repair
Toilet flapper repair
Toilet gasket replacement
A clogged or running toilet can cause families frustration – especially if that toilet is in the master bathroom or in a guest bathroom.
Don't hang that "Out of Order" sign on your home's bathroom door – call the pros at Len The Plumber! You can reach us at (800) 950-4619(800) 950-4619 to schedule your toilet repair today!
Toilet Replacement & New Installation for Your Northern Virginia Area Home
While most toilets were built to last for decades, they all eventually wear out. Perhaps you're simply seeking to modernize your home's bathroom with a toilet upgrade. Whatever your reason for toilet replacement, we're here to help! We understand that whether you live in a 1950s-style Arlington bungalow or a Federal-style row home in Alexandria, your toilet plays a major role in your bathroom's overall look. That's why selecting a new model can feel like a big decision. Fortunately, our team of experts can help you select the perfect replacement for your bathroom based on efficiency, aesthetics, and your budget.
Professional Toilet Repair Services in Northern Virginia
A leaky toilet or faulty valve is pretty common from time to time, but these are issues that our highly skilled team tackles regularly. We'll quickly asses the problem and provide premium repairs to get your toilet back in working order fast. With our innovative equipment, professional-grade components, and industry-leading techniques, you won't have to wait for days or even hours to have your toilet up and running again. Our plumbers are thoroughly trained to bring knowledgeable solutions to each toilet repair service we complete, and we are committed to keeping your toilet reliably leak-free for the long haul.
Call Len The Plumber at (800) 950-4619(800) 950-4619 or schedule your home's services online to get fast, affordable toilet repairs in Northern Virginia today!
Fast & Effective Toilet Clog Removal in the Northern Virginia Area
Every home experiences toilet troubles from time to time. Whether you live in Annandale or Fairfax, no one is immune from the occasional clog. While some clogs simply require a plunger, others need the help of a pro. Len The Plumber has the industry-leading team and tools to get your clog removed quickly, removing any obstructions from your drains while protecting the integrity of your home from burst pipes and water damage.
If you're dealing with a stubborn toilet clog, don't resort to chemical drain cleaners that will wreak havoc on your internal plumbing – simply call Len The Plumber at (800) 950-4619(800) 950-4619 or contact us online! We'll remove your clog fast, while protecting the integrity of your home's plumbing.   
Frequently Asked Questions About Toilets
Why won't my toilet stop running?
One of the most common reasons for a running toilet is overflow water leaking down into the bowl from the tank by way of the overflow tube. If you have too much water in your toilet's tank, a non-stop running toilet is bound to happen to you. Adjust the water level in your tank by lowering the toilet float.
Should I use chemical drain cleaner for a toilet clog?
No! We discourage anyone from using chemical drain cleaner for any of their home's clogs, but it's especially dangerous to use in your toilet. That's because the heat generated from chemical cleaners can not only crack the porcelain of your toilet, but soften the PVC of your pipes, leading to costly damage.
Can I replace my toilet myself?
While you could certainly tackle a toilet replacement yourself, it's best left to a professional. Plumbing experts have the industry expertise and the specialized tools to seamlessly drain your old toilet, remove it from your home, and inspect the flange before installing your new model. If you are a novice plumber, there is plenty of room for error during a DIY toilet install.
How often should I replace the wax ring on my toilet?
Wax rings are typically constructed to last the duration of your toilet's service life, but if you notice water leaking from the base of your toilet, you may need to replace it. Wax rings can dry out over time, causing them to crumble and fail to properly seal.
More questions? We'd love to answer them! Give our Northern Virginia team of plumbing experts a call today at (800) 950-4619(800) 950-4619 or reach out online!
Choose Len The Plumber for All of Your Northern Virginia Toilet Replacement & Repair Needs
At Len The Plumber, our exceptional team of plumbing technicians is always ready to bring you the toilet services you need when you need them most. Whether you're located in Falls Church, Woodbridge, or anywhere in between, we are committed to providing you with fast, friendly, and effective toilet repair, replacement, and installation services, all at a price you can afford. We know that it can be alarming when a stranger shows up at your home, which is why our technicians always arrive in a clearly marked and fully stocked truck. We'll treat you and your home with respect and get the job done fast! Plus, with our always upfront pricing, you can rest assured that there will be no surprises on your final bill!