Discovering a problem with the toilet in your home can be devastating — especially if it happens to be the only toilet in the house! From leaking tanks to faulty flapper valves, toilet repair or replacement requires you to have access to a knowledgeable plumbing professional. Len The Plumber offers the comprehensive toilet repair and replacement solutions Northern Virginia residents need to ensure continued access to this essential plumbing fixture.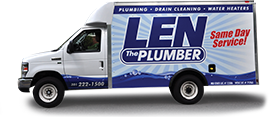 Don't let your toilet troubles go ignored: Len The Plumber has the team you need to restore full functionality to your system in no time. Contact us to schedule toilet repair or replacement today!
Signs Your Northern Virginia Toilet Needs Repair or Replacement
Several signs can indicate it's time to schedule toilet repair or replacement. Northern Virginia families should monitor for these signs to know when it's time to call in the professionals at Len The Plumber:
Weak flushing
Tank or bowl fails to refill
Cracks in the tank or bowl
Continuous running
Rust or corrosion
If you've noticed the signs of needed toilet repair or replacement, don't hesitate to contact the plumbing experts at Len The Plumber for the professional assistance you need.
Schedule toilet repair or replacement for your Northern Virginia home today!
Our Toilet Repair & Replacement Solutions in Northern Virginia
With over 25 years of industry experience under our belt, Len The Plumber's team has helped resolve many toilet issues. We are proud to offer the following toilet repair and replacement solutions throughout the Northern Virginia region:
Clogged toilet repair
Running toilet repair
Toilet installation & replacement
Leaking toilet repair
Toilet flush valve repair
Toilet flange repair
Toilet flapper valve repair
Toilet gasket replacement
When you need emergency toilet repair in Northern Virginia, there's only one team you need to call. Schedule toilet repair or replacement services with Len The Plumber at 800-950-4619 today!
Schedule Toilet Repair or Replacement in Northern Virginia
For more than 25 years, Len The Plumber has offered long-lasting toilet repair and replacement solutions that Northern Virginia families can trust. Offering the highest-quality products from a team of world-class service professionals, there's no better crew for your toilet repair needs than Len The Plumber.
Contact us to schedule toilet services in your Northern Virginia home today!
Frequently Asked Questions About Toilets
Why won't my toilet stop running?
One of the most common reasons for a running toilet is overflow water leaking down into the bowl from the tank via the overflow tube. If you have too much water in your toilet's tank, a non-stop running toilet is bound to happen to you. Adjust the water level in your tank by lowering the toilet float.
Should I use a chemical drain cleaner for a toilet clog?
No! We discourage anyone from using chemical drain cleaners for any of their home's clogs, but it's especially dangerous to use in your toilet. That's because the heat generated from chemical cleaners can not only crack the porcelain of your toilet but soften the PVC of your pipes, leading to costly damage.
Can I replace my toilet myself?
While you could certainly tackle a toilet replacement yourself, it's best left to a professional. Plumbing experts have the industry expertise and the specialized tools to seamlessly drain your old toilet, remove it from your home, and inspect the flange before installing your new model. If you are a novice plumber, there is plenty of room for error during a DIY toilet install.
How often should I replace the wax ring on my toilet?
Wax rings are typically constructed to last the duration of your toilet's service life, but if you notice water leaking from the base of your toilet, you may need to replace it. Wax rings can dry out over time, causing them to crumble and fail to properly seal.
More questions? We'd love to answer them! Give our Northern Virginia team of plumbing experts a call today at (800) 950-4619(800) 950-4619 or reach out online!