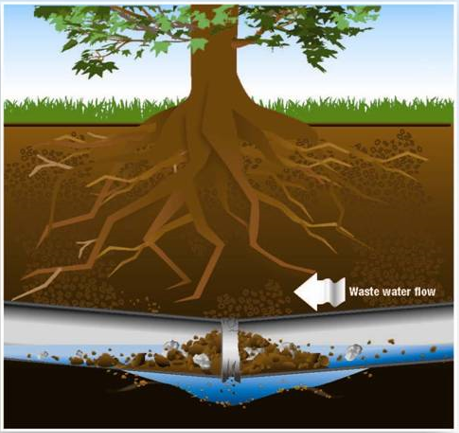 As your home ages, so does your plumbing system. If your sewer line breaks, your entire plumbing system fails. That's why it's important to hire an experienced and trustworthy plumber like the experts at Len The Plumber for all your sewer line needs.
Don't wait to address a failing sewer line. Call the professionals at Len The Plumber at (800) 950-4619(800) 950-4619 or contact us online for same day service, seven days a week.
What Are Water, Drain & Sewer Lines?
Home plumbing systems are complex networks of pipes that all have different functions and purposes:
Water lines: Your home's water main supplies water from your city's public water system or a private well to your home. It then branches off to other pipes that supply water to appliances and fixtures throughout your home.
Drain lines: Every appliance or fixture with a water source must also have a drain line for used water and waste.
Sewer lines: Your home's sewer line is the main pipe all your drain lines feed into that brings used water and waste out of your home and to a public water treatment system or septic system. If you have a broken sewer line or backed-up sewer backup, you'll have standing sewage and sewage backup that is hazardous to your water supply.
Len The Plumber is available to service all your plumbing pipe repair and replacement needs, even if you need whole-home repiping. Call (800) 950-4619(800) 950-4619 or contact Len The Plumber online today to request service.
Signs You Need Sewer Replacement
Don't want to wait until your sewer line has completely failed to replace it, as you could be without a working plumbing system for days. Below are signs that your sewer line needs professional service:
Bad-smelling water pools on your lawn.
Brown- or red-tinted water from your tap.
One plumbing fixture backs up when you use another.
There are sunken areas in your yard.
You often hear bubbling or gurgling from your plumbing system or fixtures.
Your home is more than 25 years old, and your sewer line has never been replaced.
The water in your pipes froze and burst.
Whether you need sewer line repair or replacement often depends on the age and state of the pipe itself, which we won't be able to determine without a video pipe inspection. A camera will allow us to take a look inside your sewer line to pinpoint the issue and determine the best long-term solution.
For reliable sewer line repair and replacement services, trust Len The Plumber. We're available at (800) 950-4619(800) 950-4619, or contact us online to get started.

Traditional vs. Trenchless Sewer Line Replacement
Our experienced team offers both trenchless and traditional sewer line replacements to meet the unique needs of your property:
Traditional Sewer Line Replacement
The traditional sewer line replacement method uses a backhoe to excavate the area surrounding your sewer line where our team can fully access the piping. After the line is replaced, the area is refilled.
In some situations, this is the only option available if the sewer pipes have severely deteriorated or if we have to work around a unique piping layout or home location.
Trenchless Sewer Line Replacement
The trenchless sewer line replacement method uses access holes where the damaged line starts and ends.
The replacement pipe is pulled through the old pipe, which breaks, leaving the new pipe in place without needing a backhoe. This method is preferred by many, as it usually results in less disruption to yards and driveways.
Does Homeowners Insurance Cover Sewer Line Replacement?
Many homeowners are surprised to learn that they are responsible for their sewer lines up to the property line. Typically, you must handle sewer line issues that occur anywhere from your home to the main sewer line under the street.
Check your home's policy for confirmation, but generally, homeowners are responsible for the cost of the actual pipe replacement and trench digging (and labor associated with it). Some homeowners policies will cover damage caused by a damaged sewer line, but not the sewer line replacement itself.
Trust Len The Plumber for Sewer Line Replacement in Northern Virginia
When faced with an issue as serious as a sewer line replacement, it's critical to choose licensed and experienced plumbers like the Len The Plumber team.
We have experienced and resolved countless sewer line issues, so we'll know the best way to tackle your sewer line issues. We also offer same day and emergency service seven days a week to address any emergencies quickly and efficiently.
With over 25 years of experience, you can trust our team of plumbing experts for all your sewer line repair and replacement needs.
Call Len The Plumber today at (800) 950-4619(800) 950-4619 or contact us online to request fast sewer line service from experts you can trust.