Electric water heaters have low operating costs, small space requirements and long lives.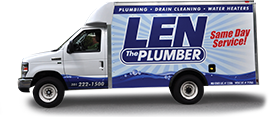 This makes them a popular choice for many homes throughout the Northern Virginia corridor. If you want to make sure your electric water heater lasts a long time, call Len The Plumber! We can assist you with your electric water heater repairs or replacement.
Our water heater experts service Fairfax, Fairfax City, Alexandria, Arlington, Loudoun, Prince William, Falls Church, and Manassas counties.
Our certified electric water heater repair technicians will arrive promptly. The technician will let you know what, if any, electric water heater repairs are needed and take care of them right away. Our expert plumbing technicians know a thing or two about electric water heater repair since we've serviced hundreds of them!
At Len The Plumber, we make it easy for you to have quick water heater service. We will help you with having your electric water heater repaired, replaced, or installed. Just fill out the form on the right or call us today!
Electric Water Heater Repair Service
At Len The Plumber, we've seen just about everything that can happen to an electric water heater. And even when things seem bad, remember that no electric water heater issue is too large or too small for our Northern Virginia plumbing experts! Call us today if:
You have hard water scale on your electric water heater tank
You're not getting enough water from your electric water heater
You're not getting enough HOT water
The water is TOO hot
You have a rusty hot water heater tank
Your water heater is making a high pitched whining noise
You have rust colored water
You have water leaking around the base of your water heater
If you notice any of these things happening with your electric water heater, don't wait – click or call Len The Plumber for electric water heater service in Northern Virginia today!
How Electric Water Heaters Work
Electric water heaters are wired to a 220-volt circuit. To heat the water, an electric current passes through electrical-resistance heating elements. There are usually two heating elements—one in the middle of the tank and one at the bottom.
Power is delivered to the heating elements via a thermostat that senses the water temperature. When the temperature drops, the thermostat resists current flow, causing it to build up and generate heat. Once water gets to the appropriate temperature, it allows the current to flow like normal. Thermostats can be set to any temperature you choose—for maximum efficiency and comfort, you should set yours to  120 F.
When a hot-water tap is opened, cold water enters the tank through the dip tube. The drop in water temperature will trigger the thermostat, which will kick on the heating elements. When the tap is turned off, the heating elements continue to carry current until the thermostats are satisfied.