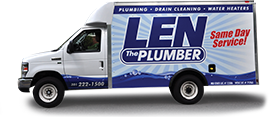 Waking up to find your tankless water heater only produces cold water or is leaking and you need to shut off your water supply is a terrible way to start the day. Anytime your tankless water heater isn't working, it's not only a huge inconvenience, but it also prevents you from living comfortably in your home and interrupts your routines.
But don't fret — the team at Len The Plumber will gladly help you get your tankless water heater working the way it should quickly, thoroughly, and professionally. You'll have fresh, flowing hot water again in no time, and we'll solve the source of the problem, so no hidden surprises are waiting to pop back up in a few months.
Call us now at (800) 950-4619(800) 950-4619 or schedule your tankless water heater repair service online.
Emergency Tankless Water Heater Repair in Northern Virginia
When you need emergency tankless water heater repair, you can trust the team at Len The Plumber to deliver a tailored solution appropriate to your unique issue.
We'll arrive quickly with fully stocked trucks and respectful customer service, ready to repair any water or gas leaks and restore hot water.
If you need emergency service, don't worry. We can handle any plumbing service quickly and expertly — guaranteed!
Signs You Need Tankless Water Heater Repair
It's best to keep an eye open and get repairs done as soon as red flags start to pop up. It'll be less stressful and might help you save on repair costs. Look for:
Discolored water or any other contamination of your water
Water going cold sooner
Water that doesn't quite seem as hot
Water that takes too long to get hot from start
Constant pilot light issues
Odd smells, sounds, or behaviors
If you've noticed any of these, get ahead of the problem by contacting Len The Plumber now! You'll come out ahead in the long run, even if all your tankless water heater needs is routine maintenance.
Dial (800) 950-4619(800) 950-4619 to speak with a member of our team today and schedule tankless water heater repair!
Common Tankless Water Heater Repairs
Wondering what the team at Len The Plumber will do for your tankless water heater? While your specific situation might require a specific fix, many common problems have equally common solutions, including:
Flushing your system to clear out buildup of minerals or contaminants
Replacing your water heater with a higher capacity unit
Clearing blocked exhausts and air supplies
Replacing damaged components, such as ignition packs
These solutions don't apply in all situations, but many issues are resolved by one of these fixes.

Choose Len The Plumber for Tankless Water Heater Repair in Northern Virginia
When you need tankless water heater repair in Northern Virginia, trust Len The Plumber to deliver the experience, expertise, and customer service you want from a plumber. When you choose us, you'll enjoy upfront estimates, excellent financing options, superior workmanship, polite team members, and a superior customer experience from start to finish.
Schedule tankless water heater repair today! Call (800) 950-4619(800) 950-4619 or contact us online to set up an appointment, ask questions, or request emergency service.