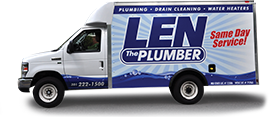 Is your tankless water heater behaving the way it ought to lately — or do you find yourself suffering through lukewarm showers or rewashing laundry because it doesn't get as clean as it used to? Or do you currently have a traditional storage water heater and are considering installing a tankless unit instead?
Whether you're facing a malfunction or breakdown, dealing with reduced efficiency due to unit age, or need a bigger unit to support increased water consumption, the expert plumbers at Len The Plumber are ready to restore hot water to your Northern Virginia home.
Dial (800) 950-4619(800) 950-4619 or contact Len The Plumber online today to learn more about tankless water heater replacement services in Northern Virginia!
Signs You Need To Consider Tankless Water Heater Replacement
Not sure whether your tankless water heater is behaving normally or showing signs of trouble? We'll work with you to confirm whether you need repairs or a replacement.
Common signs that you should start planning for a tankless water heater replacement include:
Poor performance: If your tankless water heater isn't keeping up with your hot water demands, you should consider a replacement with a higher capacity.
Poor efficiency: Water bills that continue to rise month after month for no apparent reason may be a sign that you should replace your tankless water heater with a more energy-efficient model.
Odd behaviors: Loud noises, odd smells, inconsistent temperatures, anything that makes you raise an eyebrow deserves attention, even if your tankless water heater is working right — for now.
Age. Even though tankless water heaters have longer life spans than traditional storage water heaters, they may start to show their age after the first decade. Tankless water heaters tend to last longer with proper maintenance, but eventually, you will need a new system.
Have any of these signs of trouble? Contact Len The Plumber at (800) 950-4619(800) 950-4619 and take action promptly!
How To Choose the Right Tankless Water Heater for Your Northern VA Home
When the time comes to install a new tankless water heater, the team at Len The Plumber will leverage our experience and familiarity with top manufacturers to help you select a new tankless water heater appropriate for your needs, budget, and goals.
The perfect fit for your home will be based on:
How many people live in your house and use hot water
How much hot water you use at one time across your entire home
The state of your plumbing system
How much can you spend upfront
How you prioritize energy efficiency over time
Need help determining the answers to some of these questions? Call Len The Plumber at (800) 950-4619(800) 950-4619 or contact us online!

Schedule Tankless Water Heater Installation & Replacement in Northern Virginia
When you choose Len The Plumber for a tankless water heater installation or replacement, you'll enjoy an exceptional customer care experience from beginning to end. We'll make sure you enjoy:
Thorough explanations of what your best options for a tankless water heater would be
Financing options on approved credit
Pricing transparency
Reliable, professional technicians who are as polite as they are experienced
We understand that needing a new water heater can feel stressful, especially if you weren't expecting it. We'll do everything we can to make the process as simple and straightforward as possible.
If you'd like to hear more about our tankless water heater installation and replacement services, contact Len The Plumber by dialing (800) 950-4619(800) 950-4619 or contacting us online.