Tree root infiltration is a fancy way of saying that tree roots are in your sewer line. Root infiltration is one of the biggest causes of clogs in your main sewer drain and the number one need for plumbing rooter service. Older homes have sewer lines that were made from clay, cast iron or other porous piping that over time can crack, collapse or corrode due to age, shifting of the ground and freezing of the ground. These are some of the ways that tree roots find their way into your pipes.
Our sewer line experts service Delaware, New Castle, and Chester counties.
Need Help Fast?
We offer upfront pricing and estimates and a 2-hour response time for emergency sewer and drain rooter service! Call us now at (800) 950-4619(800) 950-4619.
How Do Roots Get In Your Sewer?
Tree roots seek out water sources to grow. If a root finds a crack in your sewer pipe, it will latch on and grow into the pipe in order to get to the water inside. As you can see, this can cause many problems with clogs. The roots themselves will grow into a tangle of roots that will cause a clog itself. But as you use your home's plumbing system, grease, paper and other debris that goes down through your sewer line will collect within the roots which can cause major headaches. This diagram outlines how roots find your sewer line:
Stage 1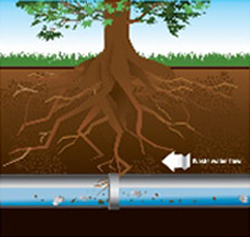 Stage 2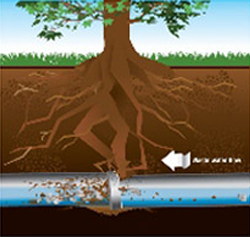 Stage 3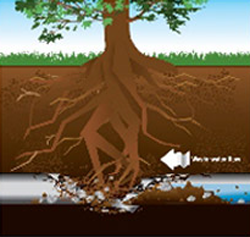 Signs of Roots in Sewer
One of the sure signs that you have an issue with your sewer line is that multiple plumbing fixtures are backing up, such as a toilet, sink, and shower. Another sign is if you are finding that your shower is backing up when you flush the toilet or if the toilet isn't flushing and backing up and/or bubbling. Any of these issues is a sign to call in a plumber.
Plumbing Rooter Service in Philadelphia & the Delaware Valley Area
Luckily our expert technicians at Len The Plumber can work with you to clear the roots in your sewer line, and as a courtesy we'll even provide a video pipe inspection to see exactly where the problem is and give you rooter service options on how to clear your lines. Len The Plumber specializes in sewer line repair and replacement, having done thousands of them over the years. You can rest easy knowing you are dealing with professionals that see and fix sewer and drain issues every day.