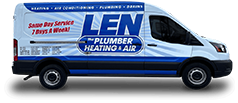 Your bathroom and kitchen faucets are some of the most frequently used plumbing fixtures in your home. It's no wonder they wear out and start leaking after a while. Fortunately, faucet repair is a simple task for the expert plumbers at Len The Plumber!
If you have a leaky faucet, we're the faucet repair pros you can always rely on for first-class service and lasting solutions. We provide same day service at zero extra cost, so you never have to wait long when you call us for faucet replacement or repair.
Call Len The Plumber at (800) 950-4619(800) 950-4619 or contact us online for top-rated faucet repair or replacement service in the Philadelphia area or the Delaware Valley.
Why It's Important to Fix Leaky Faucets ASAP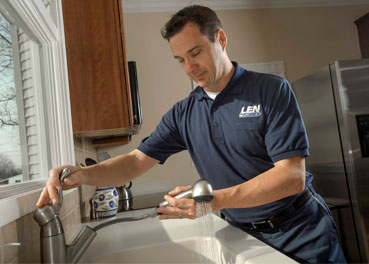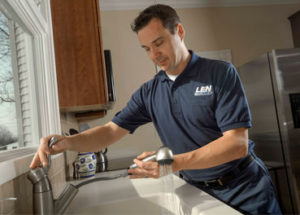 If you fail to notice them quickly, faucet leaks can waste water and damage property. Here's why you should fix leaky faucets as soon as possible.
Wasted water: A slow drip of just three drops a minute wastes roughly 157 gallons of water per year. When you combine the leaky faucets in all U.S. households, more than one trillion gallons of water are wasted annually. Use this drip calculator to find out how much your dripping faucet is wasting.
Rising costs: Your water bills are liable to increase noticeably if your faucets leak. Fixing the leak is a surefire way to bring your costs back down.
Puddles, rust, and mold: Water puddles can form at the base of the faucet, around the sink drain, and on the cabinet floor below the sink. When exposed to excess water, metal components begin to corrode. Wood and other organic materials may rot or grow mold. These effects of a leaky faucet impact the appearance of your sink and cabinet, making your bathroom or kitchen look run-down. They can also present health hazards if left unchecked for too long.
In addition to these problems, leaky faucets can be annoying, making a relentless dripping sound that can disrupt your peace and quiet! Put a stop to the waste, cost, damage, and frustration of a leaky faucet with faucet repair and replacement from Len The Plumber.
Call (800) 950-4619(800) 950-4619 or contact Len The Plumber online to schedule faucet repair or replacement service in the Philadelphia area or the Delaware Valley.
How to Detect a Faucet Leak in 3 Easy Steps
The telltale drip, drip, drip of a leaky faucet makes it easy to spot in many cases. However, keep in mind that some leaks aren't so obvious. After all, not all faucet leaks come from the tap. Sometimes, the handle or the underside of the faucet drips water without raising any obvious red flags.
If your water bills are inexplicably high, conduct this simple test to start figuring out if you may have a leaky faucet:
Read the numbers on your water meter.
Refrain from using any water for two hours.
Return to the meter to check it again.
If the reading has changed, that means you have a leak somewhere. It might be from a faucet, or you could have a leaky toilet, water heater, or pipe. Luckily, Len The Plumber can fix water leaks of all kinds.
Our Leaky Faucet Services in the Philadelphia Area & the Delaware Valley
When it comes to leaky faucets, we've seen it all—from worn-out kitchen faucets with corroded washers to damaged shower faucet O-rings and much more. Call us for any faucet repair or replacement you need. We proudly offer:
Kitchen faucet repair and replacement
Bathroom faucet repair and replacement
Shower faucet repair and replacement
Touch-activated faucet repair and replacement
Outdoor faucet repair and replacement
Laundry and utility faucet repair and replacement
Schedule Faucet Repair & Replacement in the Philadelphia Area or the Delaware Valley
Often, fixing a leaky faucet requires disassembling it to find out what internal component is causing the problem. In many cases, a complete faucet replacement is necessary. Don't risk water damage by attempting to fix the leak yourself—call Len The Plumber for the job!
Our upfront estimates and no-surprises pricing makes it easy to see that you're getting a great deal on high-quality faucet repair work.
Contact Len The Plumber online or call (800) 950-4619(800) 950-4619 for faucet replacement, installation, or repair in the Philadelphia area and the Delaware Valley!
We also invite you to check out our glowing reviews, as well as our industry-leading guarantees and our latest offers, to see why we're a leading local plumbing company.