There's almost nothing worse than having a toilet in your home that you can't use. Even if it's a simple clogged or running toilet requiring toilet flange or flapper repair, one thing is certain – toilet installation or repair is something that can't wait!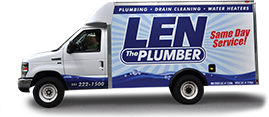 At Len The Plumber, we know how important it is to have your clogged or running toilets repaired or a new toilet installation done right away. When it comes to running, leaky, or clogged toilets, our Philadelphia and Delaware Valley area plumbers have seen it all! Call one of our friendly customer service reps today and we'll schedule a technician visit fast. We're available to repair your toilet or come out for a toilet replacement today.
Don't wait on having your toilet fixed or installing a new one. Fill out the form to the right or pick up the phone and call us today – we'll have your clogged or running toilets fixed or have a new toilet installed in no time.
If you have a stubborn toilet clog, simply call Len The Plumber at 800-950-4619 or contact us online to schedule your appointment! You can always count on our team to provide quick, efficient, and affordable plumbing!
Expert Toilet Installation & Repair Services in the Philadelphia & Delaware Valley Area
At Len The Plumber, we've seen it all when it comes to clogged and running toilets. We've all felt that horrible sinking feeling that comes when you flush the toilet and it doesn't stop running – and of course the panic when the water rises to the top of the bowl! What about when you open your water bill and it's three times the usual amount? That's why we offer fast, full-service toilet repair and toilet installation throughout the Philadelphia and Delaware Valley area, 7 days a week. Call us any time if you need:
Clogged toilet repair
Running toilet repair
Toilet installation
Leaking toilet repair
Toilet flush valve repair
Toilet flange repair
Toilet flapper repair
Toilet gasket replacement
A clogged or running toilet can cause families frustration – especially if that toilet is in the master bathroom or in a guest bathroom.
Don't hang that "Out of Order" sign on your door – if you need your toilet repaired, call the pros at Len The Plumber! Give us a call at 800-950-4619 to schedule your toilet repair today!
Toilet Replacement & New Installation for Your Philadelphia & Delaware Valley Area Home
Toilets can last for decades, but when they get old, wear out, and need to be replaced, it's great to have a local plumber on call to provide you with the installation and replacement services you need. Whether you realize it or not, your toilet plays a major role in your bathroom's overall look, which is why selecting a new model can feel like a big decision. Fortunately, our team of seasoned pros can help you select the perfect replacement for your bathroom based on efficiency, aesthetic, and your budget.
Professional Toilet Repair Services in the Philadelphia & Delaware Valley Area
If your toilet is leaking or you have a faulty valve causing it to consistently fill up without warning, you are experiencing a fairly common toilet issue that requires repairs. Our highly skilled Philadelphia and Delaware Valley area plumbing technicians can get to the bottom of your toilet's issue and fix it, using premium-quality parts, professional-grade components, and top industry techniques. Our plumbers receive hours of specialized training in order to bring you knowledgeable solutions that will keep your toilets leak-free and running smoothly.
Call Len The Plumber at 800-950-4619 or schedule your home's services online to get fast, affordable toilet repairs today!
Fast & Effective Toilet Clog Removal in the Philadelphia & Delaware Valley Area
Whether you live in Bryn Mawr or Blue Bell, all homes experience a clogged toilet from time to time. While some clogs can be removed with a simple plunger, many require a more substantial solution that can only be addressed by a pro. Len The Plumber has the tools and expertise to provide clog removal services quickly, freeing your drain lines of all obstructions and protecting your floors from water damage caused by overflowing toilets.
If you're dealing with a stubborn toilet clog, don't resort to chemical drain cleaners that will wreak havoc on your internal plumbing – simply call Len The Plumber at 800-950-4619 or contact us online! We'll remove your clog fast, while protecting the integrity of your home's plumbing.   
Choose Len The Plumber for All of Your Philadelphia & Delaware Valley Area Toilet Replacement or Repair Needs
Our team of industry experts is fully versed in toilet repair and replacement, from Doylestown, PA to Middletown, DE and everywhere between. The highly trained professionals at Len The Plumber are committed to providing you with friendly and considerate services at an affordable price, guaranteed! Once we arrive in our clearly marked and fully stocked trucks, we will get the job done fast. And we always offer upfront pricing so there are no surprises on your final bill.
When things go awry with your plumbing, don't stress over the mess! Just call Len The Plumber – we will repair your toilet so you can get back to enjoying the everyday comforts of your home. Call us at 800-950-4619 or schedule your toilet services online today!