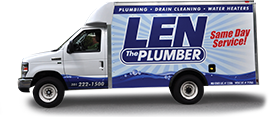 Clogged drains don't fix themselves. They only get worse with time, and they can cause major plumbing problems if they aren't cleared.
If your drains are slow or stopped up, don't go for a temporary, potentially damaging DIY fix, like a harsh drain cleaner. Instead, get a lasting solution from Len The Plumber! Our professional drain cleaning and clearing service can resolve any problems troubling your drains.
Call (800) 950-4619(800) 950-4619 or contact us online now for drain clearing and cleaning service throughout the Northern Virginia area!
We offer 2-hour response times for drain emergencies, and we never charge extra for after-hours emergency service!
We proudly provide the full range of drain, sewer, and plumbing services in Alexandria City, Arlington County, Fairfax County, Loudoun County, Manassas City, Prince William County, Stafford County, Fredericksburg City, and Falls Church.
DRAIN Clearing Service in Northern Virginia
At Len The Plumber, we can diagnose and fix any drain issue, including the most stubborn clogs! Whether soap scum, grease, or foreign objects are causing a drain clog in your home, our expert plumbers can determine where the clog is and efficiently clear the clog to restore your home's drain system.
We offer fast, thorough service to clear clogged: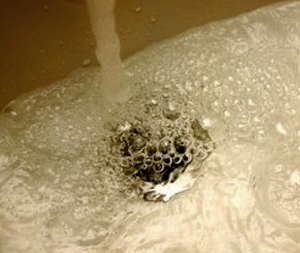 Bathroom sinks
Tub drains
Kitchen sinks
Garbage disposals
And more!
We do this with expertise and cutting-edge tools, like sewer snakes, tubing cutters, and hacksaws.
Call (800) 950-4619(800) 950-4619 or contact us online now to schedule drain clearing service throughout Northern Virginia.
DRAIN Cleaning SERVICE in Northern Virginia
When you're looking for trusted drain cleaning experts in Northern Virginia, you're looking for the team at Len The Plumber! We use the latest tools, technologies, and best practices to clean buildup and clogs in drains so that wastewater can easily flow through them again.
Our drain cleaning service typically involves:
Video camera inspections to identify the location and cause of the clog
Upfront pricing and explanations of what's causing your drain problems
Drain vent cleaning and rain leader drain service
Complete cleanup of the work area when we're finished with the service
And more!
signs you need professional DRAIN Cleaning & Clearing SERVICE at Your Northern Virginia Home
Some common signs that it's time to call Len The Plumber for drain cleaning service include:
Gurgling drains
Bad odors coming from drains
While we're ready to provide drain cleaning and rooter service when you're having drain problems, we also provide preventative drain cleaning maintenance service to help you prevent issues from happening in the first place!
Schedule Drain Clearing & Cleaning Service for your Northern Virginia home
When it comes to drain clogs and other drain problems, the expert plumbers at Len The Plumber have seen and fixed it all! Our expertise can give you confidence that we'll restore your home's drainage as quickly as possible.
Call (800) 950-4619(800) 950-4619 or contact us online for drain cleaning and clearing service in Northern Virginia. Don't forget to ask about our financing options!
When you contact Len The Plumber for drain service, you can always expect:
Free, 100% accurate estimates and upfront pricing
2-hour response times for drain emergencies and no extra fees for after-hours emergency drain service
Exceptional service and first-class solutions from experts who put your needs first!
Len The Plumber is proud to be a top-rated plumbing company in Northern Virginia! We invite you to experience our excellence for yourself, and we look forward to helping you with any of your drain and plumbing needs!