While most drain clogs are easy fixes for our Washington, D.C. area plumbers, occasionally, there are rooter plumbing issues that require advanced tools.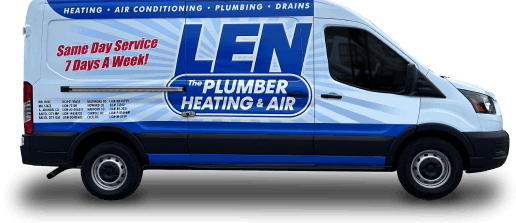 Situations such as those involving structural damage to your pipes, going in with a pipe snake is not enough. The only way to accurately diagnose the situation is with video pipe inspection, which is offered free with every sewer drain cleaning.
Need Help Fast?
We offer free estimates and a 2-hour response time on all main drain and sewer line emergencies! Call us now at (800) 950-4619(800) 950-4619.

Our video pipe technicians service Montgomery County, Prince George's County, Charles County, and Washington, D.C.
Corroded pipes, leaking joints, and root infiltration can be more than a pain – if left untreated, they can eventually do serious damage to your pipes. And since traditional pipe cleaning methods aren't always enough to catch these more advanced issues, all of the expert technicians at Len The Plumber are fully trained with the latest video pipe inspection techniques, and we're available to take care of your plumbing rooter service needs 7 days a week!
If you're having serious issues with your pipes, fill out the form to the right or pick up the phone and call us today – we'll have your pipe problems cleared up in no time.
Our Video Pipe Inspection Services
At Len The Plumber, we've seen it all when it comes to severely clogged or damaged pipes. If you have drains that clog frequently even after repeated cleanings, your problems may be worse than simple clogs. If we come out and clear your sewer line clog we'll follow up with a free video pipe inspection to examine:
Broken, cracked or collapsed pipes
Leaking joints
Offset pipes
Extreme blockages
Dangerous pipe corrosion
Bellied pipes
Root infiltration
Damaged pipes are serious business and can become costly. Eventually, major leaks can grow or clogs can build up and cause serious structural damage to your plumbing system – even your home! Don't let this happen to you – call on our friendly Washington, D.C. plumbing technicians if you are experiencing a major clog and have them follow up with a video pipe inspection today