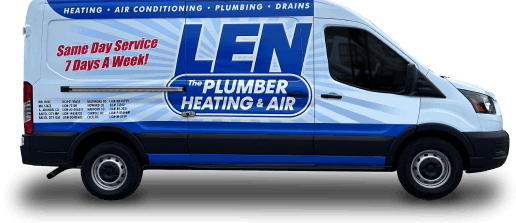 Your hot water heater is easy to take for granted, but without it, you couldn't cook, clean, bathe, do laundry, or wash dishes without boiling water by hand. Of course, these activities tax your water heater, putting it under constant strain to deliver enough hot water for your family. Over time, the tank wears out and your bills go up.
Are you currently facing a worn-out storage water heater and rising energy costs? It could be time to go tankless. If you decide to take advantage of this efficient water heating method, Len The Plumber is here for you. We provide all the services you need to keep your tankless water heater running for many years to come.
Give us a call today at (800) 950-4619(800) 950-4619 to schedule tankless water heater installation, repair, maintenance, or replacement in the Washington, D.C., area.
Tankless Water Heater Installation & Replacement
Tankless water heating is the most efficient way to generate hot water for your home. The advanced technology comes with a slightly higher initial cost, but with up to 40% savings possible on your water heating bills, it's easy to see how quickly the investment pays for itself.
Perhaps you have already made the switch from an inefficient storage tank to a streamlined tankless water heater. While these appliances often last twice as long as conventional tanks, the day will eventually come when you must replace your tankless water heater. When it does, Len The Plumber has you covered. We install the newest models with the highest efficiency ratings to help you get the most from your investment.
Ready to reduce your utility costs and enjoy endless back-to-back showers with a tankless water heater? Call us to request an upfront estimate and learn more about your financing options.
24/7 Tankless Water Heater Repair
If your water heater stops working, you could be left with high energy bills, a low flow rate, or ice-cold showers. There's no need to deal with these issues a moment longer — call Len The Plumber 24/7 for professional tankless water heater repair!
Rest assured that we never charge extra for emergency visits or evening and weekend appointments. We know that water heaters don't always break down during regular business hours, and we believe our customers shouldn't pay extra when that happens.
We are skilled at diagnosing and repairing a wide range of tankless water heater problems, including:
Low water pressure
Mineral buildups
Not enough hot water
Pilot light and burner issues
Ignition failures
Exhaust blockages
And more!
To request emergency tankless water heater repair in the Washington, D.C., area, contact us at (800) 950-4619(800) 950-4619.
Tankless Water Heater Maintenance
Because water heaters work hard behind the scenes, it's easy to forget about them. However, a little maintenance can go a long way toward ensuring reliable, efficient performance in the coming years. When you choose Len The Plumber for tankless water heater maintenance in D.C., here's what you can expect our plumbers to do:
Flush the burner system
Calibrate the thermostat
Tighten electrical connections
Inspect and test the safety controls
Has it been over a year since your tankless water heater was flushed and tuned up? If so, call our expert plumbers to arrange a maintenance visit today.
24-Hour Tankless Water Heater Services in the Washington, D.C. Area
With Len The Plumber, you get more than just great plumbing service — you also work with our friendly, knowledgeable team to ensure your satisfaction from start to finish. From written estimates and no-surprises pricing to our two-hour response time and no fees for emergency services, you can always count on us!
Contact us today to experience first-class plumbing service for yourself.