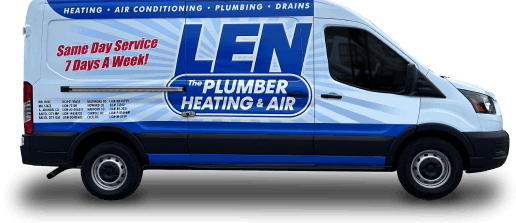 Few plumbing problems are worse than discovering standing water in your basement. By choosing the right team for your sump pump services, you can avoid the cost of catastrophic water damage in your Washington, D.C., home. At Len The Plumber, our team proudly offers the comprehensive sump pump solutions that D.C. families need to steer clear of standing water.
From installation and replacement to repair and maintenance, there's no sump pump service request our team can't handle. Get the expert sump pump services your home needs by contacting Len The Plumber today!
What Is a Sump Pump?
In Washington, D.C., flood risk is particularly high due to the area's proximity to the coastline. In fact, according to a recent report released by Climate Central, experts predict that by 2040, D.C. residents are likely to see record flooding under a midrange sea level rise scenario. For this reason, it's critical that residents equip their homes with the sump pump equipment they need to avoid catastrophic water damage.
Sump pumps are electric pumps that are typically installed in the lowest point in your home (usually the basement) in a pit. During heavy rainstorms, water that would otherwise collect in your basement will instead be directed to the pit holding the pump. When the water level reaches a certain point, the float valve on the pump activates and flushes the excess water out. These devices offer one of the most cost-effective ways to protect your basement and personal belongings from irreparable water damage.
Get the sump pump solutions you need by contacting our team to learn more about our available products and services.
Sump Pump Installation & Replacement in Washington, D.C.
At Len The Plumber, we offer only the most sophisticated solutions from the industry's most reputable manufacturers. We'll guide you through the selection process to help you find the best sump pump system for your home's basement flooding prevention needs. If you have an existing unit that's older than six years, have our team replace your system to ensure top performance even in the rainiest seasons.
No matter what your sump pump installation or replacement needs may be, our team has the products and services available to address them in no time. Contact Len The Plumber to schedule sump installation or replacement services in your D.C.-area home today!
Same Day Sump Pump Repair in the D.C. Metro Area
When your sump pump needs repair services, it won't be shy about letting you know. Especially if you notice any of the following symptoms in your equipment, it's time to schedule sump pump repair with your local plumbing professional:
Strange noises coming from your sump pump
Failure to operate
Continuous running
Constant vibrating
Infrequent usage
Visible rust on the system's exterior
Motor problems
No water in the sump pit
Frequently tripped circuit breakers
Len The Plumber understands that sump pump repairs can pop up at any time, which is why we proudly offer Washington, D.C., families same day service, seven days a week.
Whenever your sump pump repair needs arise, don't hesitate to call our emergency service technicians at (800) 950-4619(800) 950-4619 for the long-lasting solutions you need.
Why Choose Len The Plumber?
Our team doesn't simply offer the highest quality solutions from a team of certified plumbing technicians: We are committed to providing an exceptional customer experience from beginning to end. When you select our team for sump pump services in your Washington, D.C., home, you'll always receive:
Same day service, seven days a week
Certified plumbing technicians deeply familiar with Washington, D.C., plumbing systems
Background-checked, drug-tested service technicians
On-time, tidy professionals who work around your busy schedule
Upfront, honest pricing with no extra fees for overtime, evenings, or weekends
Isn't it time your home joined the 60,000 families our team proudly services each year? Get the top-quality sump pump service team your home deserves by contacting Len The Plumber today!
Schedule Sump Pump Service in Washington, D.C. Today!
Whether you're looking to install a new system or have a sump pump in need of urgent repair, our service professionals have the skills and expertise necessary to get the job done right. Allow us to ensure your home remains free and clear of water damage for years to come: Contact our team to schedule sump pump installation, repair, replacement, or maintenance services today.