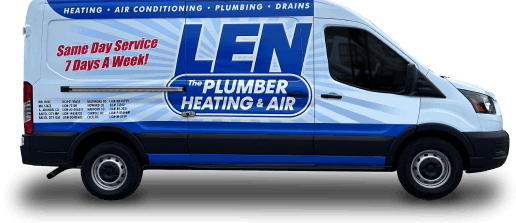 Hot water is the key to a comfortable, convenient home. If your water heater is no longer meeting your needs, consider scheduling services from Len The Plumber. We have over 20 years of experience installing, repairing, maintaining, and replacing water heaters in the Washington, D.C., area. With our help, your water heater will run affordably and dependably for many years to come.
Call (800) 950-4619(800) 950-4619 or contact us online for a water heater service estimate.
Types of Water Heaters
Our plumbing team has experience installing and servicing all types of water heaters. Choose us if you need any of the following repaired or replaced:
Gas water heaters: As a clean, energy-efficient, and cost-effective fuel source, natural gas is one of the most popular ways to power a water heater. Over the years, we have installed and repaired hundreds of gas water heaters, so we're confident we can meet your needs.
Electric water heaters: For homes without natural gas lines, electric water heaters are a logical choice. Electricity is also the energy source behind alternative-fuel water heaters.
Storage water heaters: Insulated tanks hold more than 60 gallons of hot water, so they're ready whenever you need them. This conventional water heater style may be powered with gas or electricity.
Tankless water heaters: Do away with the standby heat loss of a storage tank by switching to a tankless water heater. These systems are among the most energy-efficient on the market, and they offer an endless supply of hot water.
Heat pump water heaters: With their exceptional energy efficiency, heat pump water heaters can save you significantly on your utility bills. They collect warmth from the air to heat your water supply and are powered by electricity.
Solar water heaters: A roof-mounted solar cell makes it possible to heat your water with the power of the sun. Then, a backup power system ensures you always have hot water, even at night or on cloudy days.
Need expert assistance choosing the right water heater for your D.C.-area home? When you're ready to schedule, please call Len The Plumber.
Our 24-Hour Water Heater Services
Most water heaters last about eight to 12 years. To get the most out of your unit during this time, or to inquire about making a replacement, turn to Len The Plumber. We offer the following water heater services:
Water heater installation and replacement: Whether you're building a new home or upgrading your aging unit, we can help. We start by offering an upfront estimate with pricing options for any budget. Then, we perform an expert installation. Finally, in the case of water heater replacement, we haul away your old unit for you.
Water heater repair: Water heaters are robust appliances designed to perform reliably for many years. However, problems can still occur on occasion. If you're dealing with water leaks, no hot water, corrosion, or water pressure problems, turn to us for help! Our water heater repair team is fast, efficient, and thorough, ensuring you won't be left without hot water for long.
Water heater maintenance: Many homeowners are unaware that water heaters need annual tune-ups. Yearly burner flushes, thermostat recalibrations, and safety control tests can go a long way toward ensuring dependable, efficient performance.
Let us know how we can help you, and we'll be there on the same day to deliver the water heater services you need! Give our team of seasoned professionals a call today at (800) 950-4619(800) 950-4619 or schedule your home's water heater services online! 
Frequently Asked Questions About Water Heaters
When it comes to expertly repairing, replacing, or installing water heaters for homeowners throughout the Washington, D.C., area, our team of plumbing professionals has seen it all! With a variety of older homes along with new construction, the causes of water heater problems can be difficult to diagnose, which is why we've compiled some of the most common questions we receive about water heaters.
Why does my water heater need regular maintenance?
All home comfort systems require regular attention to ensure they run effectively and efficiently for you year-round, and water heaters are no different. Regular
water heater maintenance
will guarantee that your water heater will continue to provide you with consistent hot water when you need it, regardless of whether you have a traditional tank-style water heater or a more modern tankless version. Maintenance will also alert you to any issues before they become larger and more expensive problems. Contact Len The Plumber to
schedule your water heater maintenance
today!
Why is it taking so long for my water to get hot?
Aside from the possibility that you need
water heater repairs
for your D.C.-area home, there are a number of reasons your hot water is taking longer than usual to get hot. From the length of your pipes to flow restrictors within your fixtures to sediment buildup in your tank, you may need to enlist the help of
your local plumbing professionals
to understand what's really going on. Even freezing outdoor temperatures could be to blame! Our team of experts will be able to diagnose your problem and provide you with fast, effective, and affordable solutions — guaranteed!
How long does a water heater last?
Storage or tank water heaters last approximately 10 to 15 years, while more modern and energy-efficient tankless water heaters can last up to 20 years. Regardless of the system you utilize, regular water heater maintenance is a critical step in prolonging its service life.
Why is my water heater leaking?
If your Washington, D.C.-area home has a leaky water heater, there are a variety of factors that could be to blame. Some of the most common reasons for a leaking water heater are:
Cracked storage tank
Too much pressure
Improper draining
Loose fixtures
Service life reached or exceeded
Whatever the problem may be, Len The Plumber will get to the bottom of the issue fast and provide you with effective and affordable solutions!
How are storage and tankless water heaters different?
Storage water heaters operate by continuously heating and storing water to be used throughout your home for bathing, doing dishes, and washing laundry. Tank-style water heaters tend to lack energy efficiency because they must keep refilling and heating water in large batches.
Tankless water heaters are considered much more energy-efficient as they heat your water on demand and will provide you with the exact amount of hot water you need, right when you need it. While tankless water heaters tend to have a higher initial cost than traditional tank styles, they have a longer projected service life, will inevitably save you money on your energy bill, and require little maintenance.
Schedule Water Heater Services in the Washington, D.C. Area
Don't wait until your water heater fails completely to have it replaced. Len The Plumber makes it convenient and easy to repair or maintain your water heating system with after-hours appointments at no extra charge. Our background-checked and drug-tested plumbers are fully trained, licensed, certified, and bonded for your peace of mind.
For your satisfaction guaranteed, choose Len The Plumber for water heater service in Washington, D.C. Contact us today to request an estimate and learn more about your financing options.