Keeping the drains clean in your Washington, D.C., home can be more challenging than it seems. Stubborn clogs can render DIY drain cleaning methods useless, leaving you to search for a professional plumber who can provide the same day solutions you need.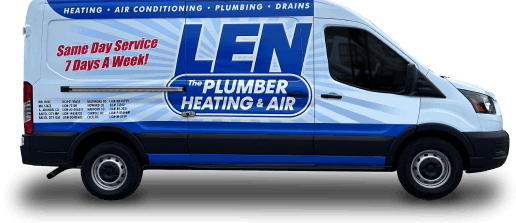 At Len The Plumber, our team offers 24/7 drain cleaning services throughout the Washington, D.C., region. Using the most sophisticated tools and techniques, our plumbing experts will leave your drains clean and clear in no time.
If you're looking for drain cleaning services near Washington, D.C., Len The Plumber is the only team you need to get the job done right. Call us at (800) 950-4619(800) 950-4619 to schedule drain cleaning services today!
Signs Your D.C. Drains are Clogged
When drains aren't cleaned regularly, they will inevitably clog. There are a number of signs that homeowners can look out for that can help them determine whether or not a drain clog is affecting their plumbing system's performance, including:
Foul odors coming from drains
Odd sounds coming from pipes and drains
Water backups in plumbing fixtures when other fixtures are in use
Raw sewage backups in basement drains
Multiple, simultaneous drain clogs
Slow-draining tubs, showers, sinks, and toilets
Do any of these symptoms sound familiar? If the answer is "yes," don't hesitate to contact the drain clog removal experts at Len The Plumber.
Call our team at (800) 950-4619(800) 950-4619 to schedule drain cleaning or drain clog removal services in the D.C. area today.
Our Drain Cleaning Services in Washington, D.C.
At Len The Plumber, our team uses the most sophisticated equipment to leave your drains as clean and clear as the day they were installed. Depending on your specific situation, our plumbing experts may recommend one of the following drain cleaning solutions for your system:
No matter how clogged or dirty your D.C. home's drains may be, Len The Plumber has the team and tools available to clear your system in no time. Contact us at (800) 950-4619(800) 950-4619 today to schedule same day drain cleaning services.
Choose Len The Plumber for Washington, D.C. Drain Cleaning Services
Your home deserves the best drain cleaning solutions that the Washington, D.C., area has to offer. At Len The Plumber, that's exactly what you'll receive. Not only do we provide superior plumbing solutions, but we do so while providing our customers with the following unique service advantages:
Upfront, honest pricing prior to all drain cleaning services provided
Prompt, reliable plumbers trained in the most advanced tools and techniques
High-quality craftsmanship and industry-leading drain cleaning solutions
Available same day drain cleaning services, seven days a week, with no overtime, weekend, or evening service charges
When you're looking for drain cleaning services in Washington, D.C., Len The Plumber has the team you need to clear your system in no time.
Don't leave your drains clogged any longer — schedule drain cleaning services online or call our team today at (800) 950-4619(800) 950-4619.
Drain Cleaning FAQs
Is there a DIY option for drain cleaning?
While DIY drain cleaning methods such as baking soda solutions or chemical cleaners might provide temporary relief, they pale in comparison to the efficacy of professional drain cleaning. In fact, harsh chemical drain cleaners can actually do more damage to your pipes, causing more blockages to occur over time. Especially if a clog is rooted deep within your sewer line, DIY drain cleaning won't provide the relief you need. Only through expert drain cleaning will you identify the root source of your problem so you can receive a long-lasting solution.
How often should drains be professionally cleaned?
In most circumstances, homeowners only need to have their drains professionally cleaned on an as-needed basis — usually, when a clog is suspected. However, in some cases, it may be beneficial to have your drains cleaned once annually as a preventative measure. In particular, if your home is older or has a history of repeat clogs, you may wish to consult with a plumbing professional to determine what drain cleaning schedule is best for your system.
What is the best drain cleaning method?
This really depends on the severity of your drain cleaning problem, how old your pipes are, as well as other system factors. For example, if there's a blockage within your drain, augering (snaking) might be the best solution to clear the problem. Other times, flushout services might be a better option to eliminate debris buildup within your system. Consult with your plumbing professional at Len The Plumber to receive a personalized recommendation for your ideal drain cleaning solution.