Natural gas is a fantastic and efficient way to power most of the appliances in your home. Installing gas lines is one of our specialties at Len The Plumber. You've come to the right place if you need us to install a gas line in your home for any appliance, including: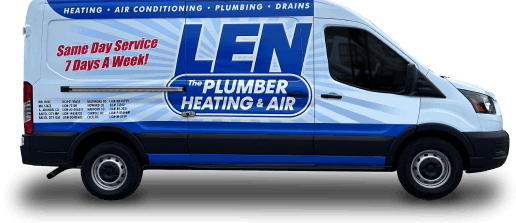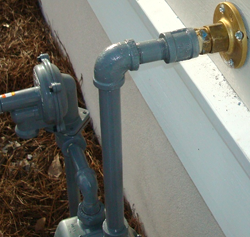 Furnaces
Gas stoves
Gas grills
Swimming pools
Hot tubs
Fireplaces
If you approve the work, we'll get it done the same day! And we always provide upfront written estimates.
If you live in Maryland or Washington and need us to install gas lines, don't wait — call Len The Plumber today at (800) 950-4619(800) 950-4619 or contact us online!
Our gas line technicians service Montgomery County, Prince George's County, Charles County, and Washington, D.C.
Emergency Gas Line Repair in Washington, D.C.
Many people think the most important part of their plumbing system is the water flowing through the pipes. But as it turns out, that's only half the story! The natural gas you use to power your appliances and heat your home is also a part of your plumbing system — one that needs to be carefully maintained!
A gas leak is one of the most dangerous things that can happen in your home. If you have a gas leak, get out immediately and call 911. Once the gas has been shut off and the emergency has passed, call Len The Plumber for gas line repair!
We offer same day service, seven days a week. Unlike sink faucet leaks, gas leaks are not things you can ignore — you should request gas line repair immediately when you notice it. At Len The Plumber, we specialize in matching the right plumber to the right job, and all of our service trucks are kept fully stocked.
Signs You Need Gas Plumbing Repair
Certain plumbing repair signs are easy to spot, but a gas line issue isn't always so obvious. Keep an eye out for these signs of a gas leak or a line in need of service:
A rotten egg smell that gas companies add for safety measures
Health symptoms that could be attributed to gas leaks, such as nausea, dizziness, skin problems, or fatigue
Malfunction or poor performance from gas appliances, such as ovens or water heaters that aren't hot enough
High gas bills not associated with heightened gas use
Gas line services need to be performed by certified professionals. If you live in the Washington, D.C., area and need Len The Plumber to install or repair gas lines, call one of our friendly customer service reps today at (800) 950-4619(800) 950-4619 or contact us online. We'll help you get the problem fixed fast!
Gas Line Installation & Replacement in Washington, D.C.
Need a new gas line for your home? Whether you're adding a new line for an appliance or replacing an old one, Len The Plumber has you covered.
We work with traditional and flexible gas lines, depending on the needs of the situation. Flexible stainless-steel corrugated tubing is most frequently used for ranges and other appliance retrofits. It's also an option for homes without existing natural gas lines.
Whatever your gas line needs or goals, entrust your project to the expert team at Len The Plumber. This is a job requiring appropriate permitting and expertise; don't risk your safety by trying to make a DIY project of gas line installation or replacement.

Request Gas Line Services From Len The Plumber in Washington D.C.
For over 25 years, Len The Plumber has served clients across the Washington, D.C., area with exceptional care and workmanship.
We specialize in plumbing done right, with licensed, certified, well-trained professionals who know the ins and outs of every system and appliance they interact with.
You can entrust your gas lines to our experts with full confidence every time — and expect them to be friendly and respectful in the process.
Contact us online or call (800) 950-4619(800) 950-4619 for gas line repair, replacement, and installation you can count on.
Frequently Asked Questions About Gas Line Services
What should I do about a major gas leak?
If you suspect a gas leak, you'll want to immediately vacate your home and call the utility company or fire department.
A serious leak can threaten more than one home, so it's not worth taking chances.
Are flexible gas lines safe?
Like any gas line, a flexible gas line is perfectly safe so long as it's installed correctly — that means it should be bonded and grounded, so it can't serve as a conduit for electricity if lightning strikes.
In terms of wear and tear, it's less rugged than black iron piping but features fewer joints likely to become weak points.
How long will gas line repair take?
Repairing or replacing a gas line will depend on the age of the line and the damage sustained. Depending on the problem, you might see delays based on the need to vent leaked gas or ensure proper safety procedures are followed.