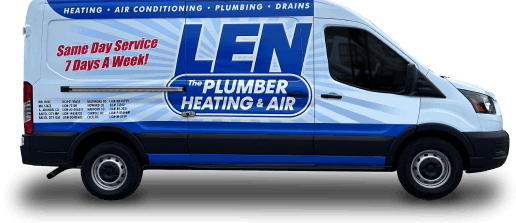 Are you tired of dealing with inconsistent or weak water pressure? Opt for a constant pressure pump to make daily routines that require water usage easier throughout your home!
Pressure pumps are crucial for maintaining uninterrupted, reliable water pressure for your showers, sinks, dishwasher, and washing machine. With an easy installation from the team at Len The Plumber, everyone in your home can enjoy consistent water pressure.
If you're struggling to maintain sufficient water pressure in your home, schedule constant pressure system service with Len The Plumber by calling (800) 950-4619(800) 950-4619 today!
Benefits of Constant Pressure Systems
A constant pressure system is a special water pressure device that helps fix low water pressure primarily in homes that rely on well water, but it can help homes using city water as well.
In addition to improving the overall water pressure performance in your plumbing system, the constant pressure system also offers the following unique benefits:
Easy installation and compatibility with existing systems
Smooth, quiet operation
Variety of pressure settings suitable for any sensitivity level
Built-in pump system protection
Electronic protection features
Does Your Washington, D.C. Home Need a Constant Pressure System?
When your home's water pressure problems aren't caused by a leak, it may be time to consider constant pressure system installation. Consider:
What is my water flow rate? Len The Plumber relies on sophisticated plumbing equipment to determine how many gallons of water your system receives per minute across all fixtures, identifying opportunities for flow rate improvement.
How much water do you really need? If you don't have enough water to meet your everyday usage demands, a constant pressure system may be the right choice.
How much pressure do you need? While strong water pressure is essential, it's important to keep your pressure below 60 psi, as anything higher than this can cause damage to your plumbing fixtures and appliances.
Need help deciding whether or not constant pressure system installation is right for your Washington, D.C., home? Call Len The Plumber at (800) 950-4619(800) 950-4619 to speak to our knowledgeable plumbers today!
Constant Pressure System Installation & Replacement Services in D.C.
When reliable well water pressure is in short supply, constant pressure system installation or replacement may be the solution you need. Len The Plumber has experience installing and replacing constant pressure systems in homes throughout the Washington, D.C., region.
Our highly skilled plumbing professionals can outfit your home's water supply with the enhanced pressure system it needs without the need for additional construction on your property.
Find answers to your water pressure problems by scheduling constant pressure system installation or replacement with Len The Plumber online or by calling (800) 950-4619(800) 950-4619!

Schedule Constant Pressure System Services Today!
When your Washington, D.C., home suffers from insufficient water pressure, look to Len The Plumber for the constant pressure system solutions you need. Customers know when they choose our team to resolve their water pressure problems, they'll always enjoy:
Certified, quality plumbing professionals with years of industry experience
Prompt appointment arrival and personalized plumbing solutions
No charge for overtime, evening, or weekend service
Fully stocked service vehicles to ensure resolutions are provided the same day of your appointment
Call Len The Plumber at (800) 950-4619(800) 950-4619 to schedule constant pressure system services for your home today!