If you live in or close to a big city, you probably never have to worry about a well pump. But as you get farther out, it becomes more and more likely you rely on a well pump to move water from underground into your home. If this is the case, Len The Plumber offers a variety of well pump services.
Our well pump experts service Montgomery County, Prince George's County, Charles County, and Washington, D.C.
If you're experiencing well pump problems, especially if it stops working, it can mean big issues for your home's water pressure. Faulty well pumps will cause drastic reductions in pressure, making showering and cooking a chore. And if your well pump fails completely, forget it — you may not be able to get any water at all!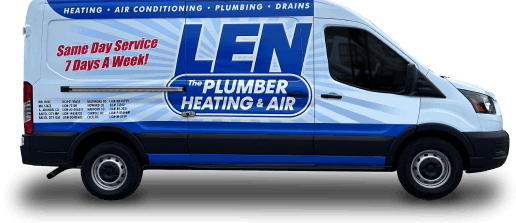 We offer Same Day Service, 7 Days a Week. From basic well pump repair to entire well pump replacement, no job is too big or small. At Len The Plumber, we specialize in matching the right plumber to the right job, and all of our service trucks are kept fully stocked.
If you approve the work, we'll get it done the same day! And we always provide upfront written estimates.
If you need expert well pump services, look no further than Len The Plumber! We'll get your well pump working again in no time! Give us a call at (800) 950-4619(800) 950-4619 or contact us online today to schedule your well pump services!
Well Pump Problems & Repairs in the Washington, D.C. Area
Well pumps are generally reliable, but like anything, they occasionally run into problems. Fortunately, the professionals at Len The Plumber are well pump service experts and can take care of whatever ails your pump! Call us today if you have:
Low water pressure
No water pressure
Short-cycling well pump
Lost air in the water tank
Faulty water pressure control or water pump control switches
Sputtering water
Cloudy or muddy water
Pressure Booster Pump Installation in Washington, D.C.
We can also install pressure booster pumps if your old well pump isn't able to provide enough water pressure for your home anymore. A pressure booster pump works similarly to a fan, increasing low water pressure or flow and providing the extra boost you need to get your water pressure back up to an optimal level. Just like a fan has blades that circulate around to increase air movement, a booster pump has an impeller inside that increases water flow and pressure. A single water booster pump can increase water pressure throughout your entire home.
Does Your Washington, D.C. Home Need a Booster Pump?
If your home's water pressure problems do not stem from a leak, or if you need more water pressure for a particular use, then a booster pump is likely your best option. Here are some things to consider when deciding to get a booster pump installed in your home:
What is my water flow rate? The professional team at Len The Plumber can calculate how many gallons of water you get per minute, keeping all fixtures in mind, and then determine if your flow rate could be improved.
How much water do you really need? Consider the amount of water needed for your household's everyday use. If you don't think enough water is being supplied, or if you frequently run out of water, a booster pump could solve your problem!
How much pressure do you need? Most people prefer higher water pressure when taking a shower, but pressure that is too high can be dangerous for your plumbing appliances. A pressure-reducing valve is located in most homes to maintain water pressure and should be kept below 60 psi, as anything more could hurt your home's system.
The type of booster pump you need depends on the amount of water your home uses. The professionals at Len The Plumber can help you determine exactly which booster pump is best for your home's water pressure needs.
Are you tired of showering beneath a trickle of water? Contact Len The Plumber online or give us a call at (800) 950-4619(800) 950-4619 to schedule your appointment today! We can get your water flowing at an optimal pressure for a price you can afford!
Well Pump Replacement Services in the Washington, D.C. Area
Perhaps the problem with your well pump is beyond repair — not to worry! Len The Plumber's technicians are the best in the business, and we can replace your well pump promptly and professionally. We offer a variety of well water system services, as well as a complimentary whole-home plumbing inspection. If a well pump replacement is necessary, we will provide you with a variety of replacement options catered to your unique needs and budget.
Len The Plumber is committed to being 100% upfront about pricing and will follow up with you to make sure that your new well pump is operating at peak performance after it's installed. We also offer flexible financing options, so the price of a well pump replacement will never have to be a deterrent from getting the services your home and family need.
If you need well pump services for your D.C.-area home, contact the Len The Plumber team anytime and we will get things flowing smoothly again! Call us at (800) 950-4619(800) 950-4619 or contact us online to schedule your well pump services today!