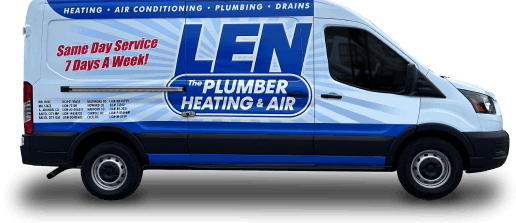 From cooking and cleaning to personal hygiene and recreation, we rely on our tankless water heaters for many of our daily activities. When your tankless water heater malfunctions or breaks down, you need a knowledgeable plumber to deliver the fast, effective solutions you need. Len The Plumber proudly offers same day water heater repair services throughout the Washington, D.C. region, helping families stay connected to the hot water they need when they need it.
Your search for "emergency tankless water heater repair near me" stops now: Schedule same day repair services with Len The Plumber by contacting our team today!
Signs Your Washington, D.C. Home Needs Tankless Water Heater Repair
There are a number of signs that homeowners can watch for that will indicate the need for tankless water heater repair, including:
Abnormally low water pressure
Corrosion or mineral buildup in your unit
Lack of hot water or water that's too hot
An unusual spike in water bills
Foul-smelling water
Discolored water
Strange noises coming from your system
Leaks from your water heater
If you've noticed these signs and need tankless water heater repair in your Washington, D.C. home, don't hesitate to get the professional service you need at Len The Plumber. Schedule emergency tankless water heater repair services with our team today!
Our D.C. Area Tankless Water Heater Repair Services
During your tankless water heater repair service appointment, Len The Plumber will take special care to:
Arrive at your home on time with a fully stocked service truck to meet your service needs
Carefully inspect your tankless water heater
Diagnose the problem using advanced industry tools and techniques
Explain your best repair options and answer all questions
Provide upfront, honest pricing prior to beginning repair work
Repair your tankless water heater quickly and efficiently, testing to ensure it's working properly once all repair work has been completed
Leave your home cleaner than when we found it
If we find during our evaluation of your system that you could benefit more from a tankless water heater replacement, we can help you find the best system to meet your daily water consumption needs from our selection of top-quality units. Our team is proud to offer same day repair service seven days a week to help meet all of your urgent tankless water heater repair needs.
Don't leave your Washington, D.C. tankless water heater in the wrong hands. Schedule plumbing repairs with Len The Plumber today!
Why Choose Len The Plumber?
At Len The Plumber, our team works tirelessly to deliver the highest quality tankless water heater services in the D.C. metro area. When you select our team for service, you'll always receive:
Same day tankless water heater repair service, seven days a week
Fully stocked service trucks with all your plumbing hardware needs
120 certified plumbing technicians with decades of industry experience
On-time, tidy service professionals deeply familiar with D.C. plumbing systems
If hot water issues are impacting your home's plumbing, Len The Plumber is here to help. Schedule tankless water heater repair in Washington, D.C. by contacting our team today!
Schedule Tankless Water Heater Repair in Washington, D.C.
When your home's hot water is in short supply, Len The Plumber has the repair crew you need to restore your tankless water heater to working condition.
Allow our plumbing professionals to deliver the long-lasting solutions you need by scheduling tankless water heater repair with Len The Plumber today.