Slow drains and clogged pipes always seem to happen at the most inopportune times, and can often lead to larger repairs if they go ignored for an extended period of time.  We tend to treat our
drains with an "out of sight, out of mind" mentality.  However, in reality, when you continuously pour grease down the drain it doesn't wash away; instead, it will create a clogged drain overtime!
To ignore headaches down the road, the first step in preventing clogged drains is to clean them, which is what our expert technicians specialize in.  We are the "drain cleaning experts", after all.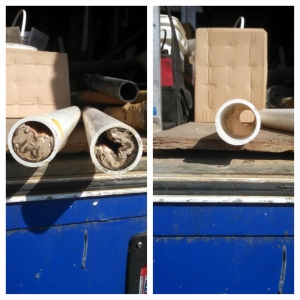 After you've had your drains cleaned, here are some ways to keep your drains clear:
Take preventative measures with your garbage disposal! Cold water helps prevent food particles from attaching to the inside of your pipes.  You should flush your kitchen drain with cold water before, during, and after using your garbage disposal.  Additionally, we always advise our customers to follow our garbage disposals tips.  This will help prolong the life of your system!
Pour grease in an empty can, not your drain.  If you're a bacon lover, resist the urge to pour the remaining grease down your kitchen sink.  Instead, grab a used can from your recycling bin to dump the grease in.  Discard the can once the grease has hardened.
Watch what you flush.  Fun fact: "Flushable" wipes and feminine products are not flushable!  Remember—human waste and toilet paper should only be flushed down your toilet.  Use our Len The Plumber approved guide to educate your household members of what you can and cannot flush down the toilet. 
Invest in sink strainers for your kitchen and bathroom drains.  Keep unwanted particles like food, hair, and other objects out of your drains by using a sink strainer.  We recommend using one in your bath tub as well—especially if you bathe your pet there!
At Len The Plumber, it's always our goal to provide our customers with world class customer service.  And when it comes to clogged or slow-running drains, our expert technicians are first in class.  Give us a call or schedule an appointment online to receive Same Day Service.  We're here for you 7 Days A Week!