Many people don't know this, but as a homeowner, you're responsible for the portion of your sewer line that leads from your house to the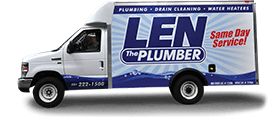 main sewer lateral under the street. This means that if you have a blockage, clog, root infiltration, or other types of backups in your sewer line, it's up to you to find a plumber that can clear it!
If you need sewer service such as drain cleaning, sewer line repair, and sewer line inspection, you've come to the right place. Len The Plumber specializes in sewer line repair and sewer line replacement.
Need Help Fast?
We offer free sewer estimates and a 2-hour response time on all main drain and sewer line emergencies! Call us now at 800-950-4619.
Our sewer repair and replacement experts service Baltimore, Washington, D.C., Northern Virginia, Delaware and the Philadelphia Area. The specific counties we service are: Baltimore County, Howard County, Montgomery County, Prince George's County, Anne Arundel County, Harford County, Carroll County, Fairfax, New Castle County, Delaware County, Chester County, Stafford County, Fredericksburg County, Fairfax City, Alexandria, Arlington County, Loudoun County, Prince William County, Falls Church, Manassas, and Cecil County.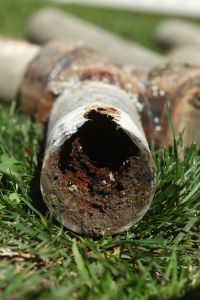 There are many reasons why you might need rooter service, such as a sewer line repair or sewer line replacement:
Broken, cracked or collapsed sewer lines
Shifting or settling soil
Pipe corrosion
Weather changes, such as frozen ground
Deterioration due to age or materials used
If any of these apply to you, or if it's been determined that you need sewer line replacement – call us today! We will send one of our certified sewer line experts right away. Sewer line estimates are FREE and financing options are available!
Sewer Line Repair Services
Call us if you need sewer service and we'll match the right technician to your job and make sure your sewer line is fixed correctly – the first time! To save you time and money, we offer:
Read about what a sewer camera inspection is and why it's helpful »
Some of the communities served by Len The Plumber include:
Burke, Virginia
Canton, Maryland
Check out our service areas for a full list of the communities that Len The Plumber services.