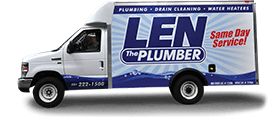 Homeowners are responsible for the portion of the sewer line that leads from their house to the main sewer lateral under the street. This means that if your sewer line backs up for any reason, it's up to you to find a plumber who can clear it!
If you need any sewer service—from drain cleaning and inspections to sewer line repair and replacement—you've come to the right place. Len The Plumber specializes in sewer line services and solutions.
Call Len The Plumber at (800) 950-4619(800) 950-4619 or contact us online now for sewer service in DE, MD, PA, NJ, VA, or DC.
We offer free sewer estimates and a 2-hour response time on all main drain and sewer line emergencies. Plus, we never charge extra for emergency plumbing service!
When to Call for Sewer Repair or Replacement Service
Some of the most common reasons homeowners need rooter service, like sewer line repair or sewer line replacement, include: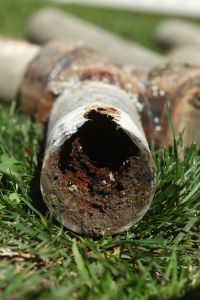 Pipe corrosion
Broken or cracked sewer lines
Misaligned or collapsed sewer lines
Deterioration of sewer lines due to age or the materials used to make them
Some signs you may have sewer line problems like these can include:
Foul, sewage-like odors coming from your drains
Backups in multiple drains in your home
Gurgling or bubbling toilets or drains
Plumbing fixtures back up when another plumbing fixture is used (like backups in a bathtub when a toilet is flushed)
If you notice any of these warning signs of drain and sewer line issues, call Len The Plumber ASAP! Our certified sewer line experts are ready to help whenever you're dealing with sewer line problems!
Call (800) 950-4619(800) 950-4619 for emergency sewer line service in Baltimore, Northern Virginia, New Jersey, Philadelphia, Delaware, or Washington, D.C.
We offer FREE sewer line estimates, 2-hour response times for sewer emergencies, and flexible financing options with approved credit!
24/7 Sewer Line Repair & Replacement Service: What to Expect
When you contact Len The Plumber for sewer line service, we'll match the right local plumber to your job and quickly dispatch our expert to help you.
To save you time and money, we offer:
Video camera inspections: Using cutting-edge equipment, we can see what's going on in your sewer line, efficiently pinpointing the problem so we can devise the best solution.
Free sewer line replacement estimates: We also provide pricing upfront so you can make an informed decision. Plus, we never tack on hidden or surprise fees—the price we quote you is the price you'll pay!
Discounts on your sewer line replacement: We offer deals on sewer line replacements so you can save and get the best value from this service!
Trenchless sewer line repair service: This no-dig option can be an ideal, more efficient way to repair damaged sewer lines (when compared to traditional sewer repair that requires excavation). The expert plumbers at Len The Plumber are highly skilled at performing trenchless sewer repair, which can save homeowners time and money.
Competitive financing: We never want you to have to wait to get the sewer repair service you need because your budget is holding you back! With our flexible financing options, it's convenient to get excellent sewer service and pay over time.
Our trusted local plumbers have the expertise and state-of-the-art tools to diagnose and repair any sewer line problem. Whether you need sewer line repair or it's time for sewer line replacement, we'll get the job done efficiently and correctly the first time!
Call Len The Plumber at (800) 950-4619(800) 950-4619 or contact us online now to schedule sewer service.
Discover what a sewer camera inspection is and why it's helpful »
Schedule 24-Hour Sewer Service in DC, DE, MD, NJ, PA & VA
When you're looking for first-class tankless sewer line service from expert plumbers, you're looking for Len The Plumber! From video camera sewer inspections to trenchless sewer repair and sewer line replacement, we're the team you can count on for top-notch service and solutions.
Call Len The Plumber at (800) 950-4619(800) 950-4619 or contact us online to schedule sewer line service. We'll be there within 2 hours for emergency sewer service, and we won't charge extra!
For more than 20 years, Len The Plumber has been offering top-quality plumbing services throughout Baltimore, Northern Virginia, New Jersey, Philadelphia, the Delaware Valley area, and Washington, D.C. That's just one reason why our customers love us! But don't take our word for it—contact us to experience our excellence for yourself!
COMMUNITIES SERVED BY LEN THE PLUMBER
Burke, Virginia
Canton, Maryland
And more
Don't see your area listed above? Check out our complete service area for a full list of the communities that Len The Plumber serves.