Customer Reviews
I am so glad I called and scheduled an appointment with Len The Plumber. The plumber that they sent was Ryan. I can't say enough nice things about him. He was so nice and professional, it was a pleasure doing business with him. I would definitely recommend Len The Plumber to my family and friends and suggest they request Ryan. – Deborah (New Jersey)
---
Ray and the Len The Plumber Team were incredible! They were available the next day, arrived on time, and diagnosed the problem on-site immediately. They repaired the piping and referred me to the reconstruction team to clean up the living space. A great experience after an incredibly scary leak. I highly recommend Len The Plumber. – Lisa (Maryland)
---
This was our first time using Len the Plumber and we're very happy with the outcome! The dispatch office kept us well informed about when we could expect the tech, and our tech Tim was great! He was prompt, informative, friendly, professional and thorough. We'll definitely use this company again and would recommend it to friends. – Mary (Pennsylvania)
---
They responded quickly & efficiently to replace our leaking water heater even though it was Sunday. The plumber was highly skilled, courteous, and was able to present several options for replacement. The work was completed on time and for the price agreed. I will definitely use their services in the future. – John (Virginia)
---
Call this plumber first! They were here in under 2 hours! They are less expensive than most. Prince did the job quickly and efficiently. It was an overall great experience! – Maureen (Washington, D.C.)
Don't just take our word for it; see what our customers have to say about us.

Read reviews on BestPickReports.com
OR, PLEASE WRITE YOUR OWN REVIEW BY CLICKING THE GOOGLE ICON BELOW
We understand that deciding which plumber to use can sometimes be a difficult task.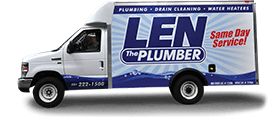 That is why many rely on the experience others have had and share through public review sites.
Len The Plumber is proud to service and exceed the needs of our customers—to us it's about more than just plumbing! We know that plumbing is one of the most basic necessities to a fully functioning and happy home and we appreciate the trust our customers have shown us over the years. It's the reason why our customers use us again and again and recommend our services to their friends and neighbors.